Product

Features

APC Back-UPS BE700Y-IND

700 VA or 390 watts power supply 3 heavy-duty batteries Sockets protected against voltage surge

APC Back-UPS BX600C-IN

Power backup provider Power protector Ideal for home office

Zebronics 600 VA UPS-U725

Low cost of ownership Line interactive system operation Auto start during AC recovering period

RegalDream-Technologies-MicroUPS

600 VA line interactive UPS Up to 15 mins power backup
Buck or boost AVR present for voltage stabilization

Luminous Zelio+ 1100 Home Pure Sine Wave Inverter UPS

Intelligent home UPS Dual modes of UPS and ECO Installed fan to control temperature rise
Computers have become a basic necessity for our survival, hence your work requires the best UPS for PC. We spend most of our time accomplishing work-related targets as professionals or completely our school assignments as students. Whatever be your designation, computer operations are super essential. But, our life comes to a steady halt when our residence suffers from a power-cut. Power-cuts are always unpredictable and inevitable. Hence, a backup plan for protecting your computer is the need of the hour. A UPS helps in achieving it. Irregular power generation should not affect the performance of your personal computer. 
What is A UPS?
A UPS stands for Uninterruptible Power Supply/Source. It is specially designed for PCs to allow them to function at their optimal level, despite a power-cut. It protects the computer system from any damage that can be caused due to a sudden power failure or unclean power. When there is a power failure in a home, all the electronic gadgets that survive through a constant power supply turn dead. When the electric current is generated again, the load on the power route is very high. Hence, the computer system may suffer from severe damage due to a heavy electric load. To avoid this, the UPS was invented. It eliminates the breakage between the computer and the power supply so that your PC can permit you to conduct your work. UPS is a chargeable device, so one can charge and keep the device ready as a precautionary measure. 
How Does A UPS Function?
The UPS bridges the gap between the computer system and the electricity supply that is formed during a power failure. It is an electronic device that permits the computer to continue functioning for a short duration when the primary source of electricity is lost. Not only do they supply electricity but also protect the computer system from power surges. It comes along with a sensor that can detect a sudden drop in the power supply. It comes along with an embedded battery that kick-starts the normal and proper functioning of the computer. The battery present within the UPS becomes a secondary source of power during a power failure. It is a backup battery that functions during the hours of crisis like a blackout, voltage sag, and voltage surge. When the sensor of the UPS detects a drop or a surge beyond the safety levels in the power supply, then it swaps to a DC battery power and converts it to AC power, so that the connected electronic device functions optimally. 
Why Is There a Need to Install a UPS?
Two main reasons are taken into consideration. First, it supplies electricity during a power failure, and second, it protects the electronic equipment from damage that can be caused due to a drop or surge in the power supply. UPS delivers the power for some time only. But, it is beneficial for the computer as the owner gets sufficient time to save his progress in the computer and successfully switch it off. Did you ever think, what is UPS for the computer? It is a provider of sufficient power. A sudden change in the graph of the power supply may cause loss of data and even severe damage to the computer. At times retrieval of data isn't possible as the files may get deleted permanently. The computer begins to malfunction post-exposure to a voltage surge. Hence, it is advisable to invest in a good quality UPS to prevent such awful events in the future. 
Types of UPS
There are three main types of UPS available:
Double Conversion Online UPS:

This type of UPS is successfully available to supply clean, constant, and near to perfection power, irrespective of the power source. A computer that operates on a double-conversion online UPS will function by converting the incoming AC power to DC and vice versa.

Voltage and Frequency-Dependent UPS:

It supplies the most fundamental power. It is also called as offline UPS as it starts operating only when the inverter is turned off. 

Line-Interactive UPS:

This type lies between the online and offline type of UPS. The load fed comes from the primary source during normal functioning. Apart from this, it consists of various levels to stabilize voltage and reduces spikes and transients. 
Best UPS for PC – Buying Guide
Now that you have a fair idea about a UPS. There are a couple of factors that you need to bear in mind to find the best UPS for PC and binge working:
Factors to Look For
Purchase As Per Your Requirement:

Before purchasing a UPS it is mandatory to first determine which type of UPS should you opt for. Depending upon the number of devices that have to be powered, one should buy accordingly. For office purposes, there are heavy-duty UPS available whereas, for home purposes you can opt for a cheaper one as well. If your residence suffers from frequent power-cuts then you will have to choose accordingly. 

UPS Runtime:

Mostly UPS operations take place only for minutes. But, with the advancement in technology, there are a few UPS that show impeccable performance and may even function for hours. Such UPS are often costly, hence, purchase them only if required. You can anyways opt for a UPS that generates power for a couple of minutes. The runtime of the UPS will rely on the system you choose to operate.

Opt for a Reliable UPS:

Make certain to have browsed through various UPS before eventually settling for one. Go for a product that will work efficiently for years. The UPS should be able to generate power as and when required. You should not face any sort of power glitches due to the poor execution of the UPS.

Easy Maintenance:

The UPS you choose should be easy to maintain. It should be of excellent quality and should not require servicing time and again. The maintenance should be budget-friendly and not cost a hefty price. 

Affordability:

For first-time users of UPS a cheaper option would be great. As you will be new to the regular usage of UPS and may not be aware of all the factors that have to be taken into consideration while operating a UPS. It is always feasible to go for an affordable one when you are a beginner and then eventually turn to a high-end one. 

Trust the Brand:

Will purchasing any form of electronic gadget, you should choose a branded product. The brand logo itself is the guarantee and warranty of the product. Branded products often come with after-sales services along with a minimum 2 years warranty. 
Best UPS for PC Reviews
After having the perfect image of the factors to be taken into account, you can avail of your best UPS system for the home. Here are a few recommendations of the best UPS for PC for you to select from: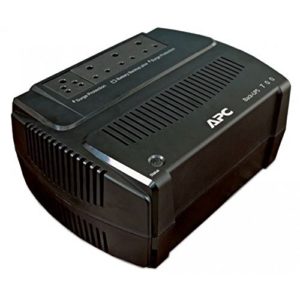 APC Back-UPS BE700Y-IND comes from the most affordable range of UPS systems. It is a reliable product to choose as it will last you for years. It is the best UPS for the computer. You can operate your PC without worrying about its well-being. Its key features are as follows:
Comes in a 700 VA or 390 watts power supply.

Backed with 3 heavy-duty batteries 

Sockets are protected against voltage surge

The battery is conserved even during and drop or hike in the voltage supply

LED interface that comes along with an audio alarm 

During overload, the power supply cuts off automatically 

Helps to keep the computer running 30 minutes

You can safely shut down your PC when the power supply betrays you. 

You can avail a 2 years warranty period

APC Back-UPS BX600C-IN comes from the same family as the above-mentioned UPS. It is an excellent companion during power-cut and will aid you to complete your work efficiently. Its vital features are:
An ideal power backup provider and power protector

APC 600VA UPS

Can be used for television, home entertainment systems, computers, and WiFi modem routers 

Best UPS for home offices

There are surge protected sockets available

The battery backup outlets are present to supply a continuous power current

Comes with 3 Indian 2/3 pin power sockets 

Protects hardware and data during a power shortage 

It is compatible with a generator

Up to 30 minutes of power backup accessible

Intelligent charging enables maximum battery performance, increases its life expectancy and reliability

Audio alarms and LED notifications detect a battery that needs to be replaced

You can avail a warranty of 2 years

Zebronics 600 VA UPS-U725 is an affordable product that is great for beginners. It is easy to use and reliable, making it the best UPS home system to let your computer hustle along with you. Its prominent features are as mentioned below:
It is the best PC UPS with a low cost of ownership

It has a line-interactive system operation 

It starts automatically while AC is replenishing 

Comes with a wide input range 

Based with a microcontroller

It is compatible along with a generator 

Its voltage range in AC mode and battery mode is 230 VAC +/- 10%

Its frequency range in battery mode is 50 Hz to 60 Hz +/- 1%

It gives protection against overload, short circuit, over-discharge, and overcharges

Has an audio alarm and LED interface 

Comes with an automatic voltage regulation 

Artis PS-600 VA Line Interactive UPS is a yet another UPS system that comes from the affordable range. It comes in a black-hued exterior and is surely the finest UPS for a computer. Its key features are as follows:
Designed for personal computers, desktops, laptops, routers, networking devices, and gaming consoles

It is a 600 VA line-interactive UPS system

Provides up to 15 minutes battery backup

A microcontroller generates high reliability 

Buck/boost AVR present for stabilizing the voltage 

Generates a sine wave output 

Can be charged even when switched off and not in use

Comes with heavy-duty batteries for longer life and increase durability

Starts automatically when the AC mains are obtained back

Compact size and light in weight increases portability 

Comes with a wide input range of 140-230 VAC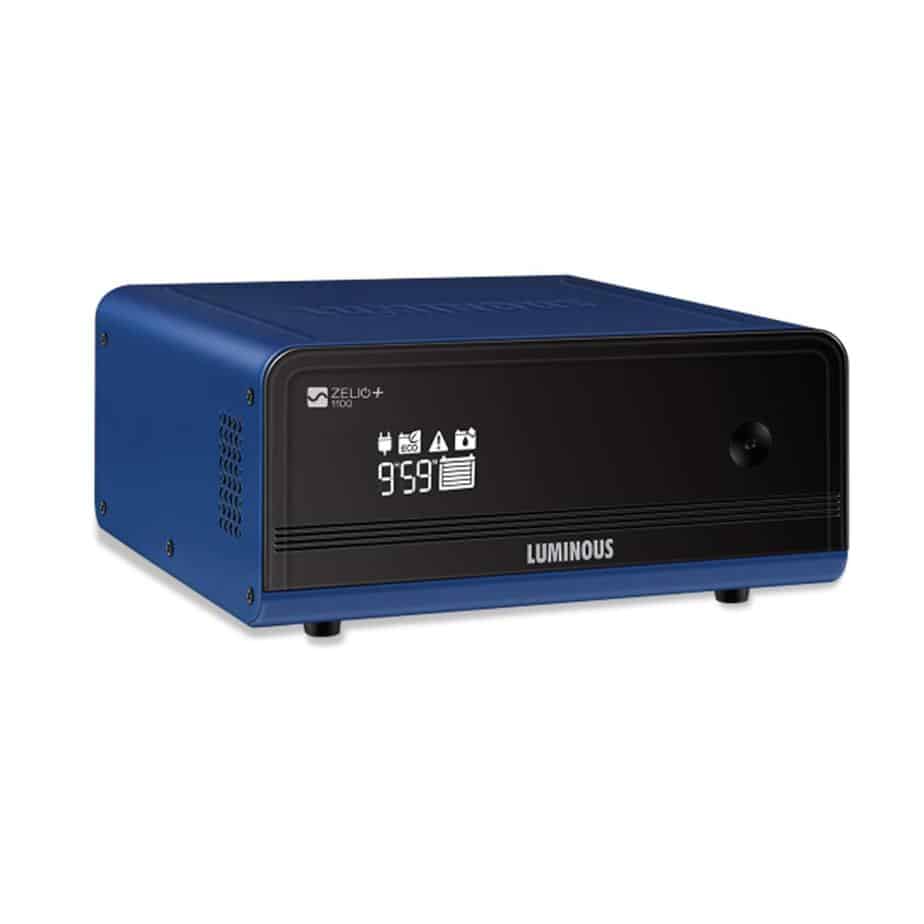 Luminous Zelio+ 1100 Home Pure Sine Wave Inverter UPS is a portable and lightweight device that is robust enough to generate power when the primary source fails to do so. Its important features are mentioned in the list below:
Comes with an LED display with minimum 15 mins backup battery 

It is an intelligent home UPS

Has dual modes of UPS and ECO

Comes with an easy bypass switch to operate the device quickly and conveniently

Comes with an installed fan that controls the temperature

It gives protection against overload, deep discharge, short circuit, reverse polarity, and input mains through MCB

The battery for computer UPS is a single heavy-duty battery with an amazing capacity of 900 VA

Aids in wide battery range

Operates at pin drop silence due to low harmonic distortion

You can operate it on sensitive appliances as well due to the sine wave output mechanism 

You can avail a 2 years warranty period 

Microtek Tuff Power Pro+ 650 VA UPS is an amazing Microtek UPS for a computer that comes with heavy-duty batteries. This Microtek computer up is the best, affordable, and reliable device that allows the PC to work efficiently. Its main features are mentioned in the list below:
Comes with boost and buck AVR for voltage stabilization

Protects against overload, discharge, and overcharge protection

It starts automatically while AC is recovering

Consists of lithium-ion batteries 

It can be used for protecting laptop, WiFi router, and PC

It has a frequency of 50 Hz +/- 10%

Off mode charging available

Its wattage is 360 Watts

It comes along with an assured warranty period of 2 years 

It is the finest UPS for home use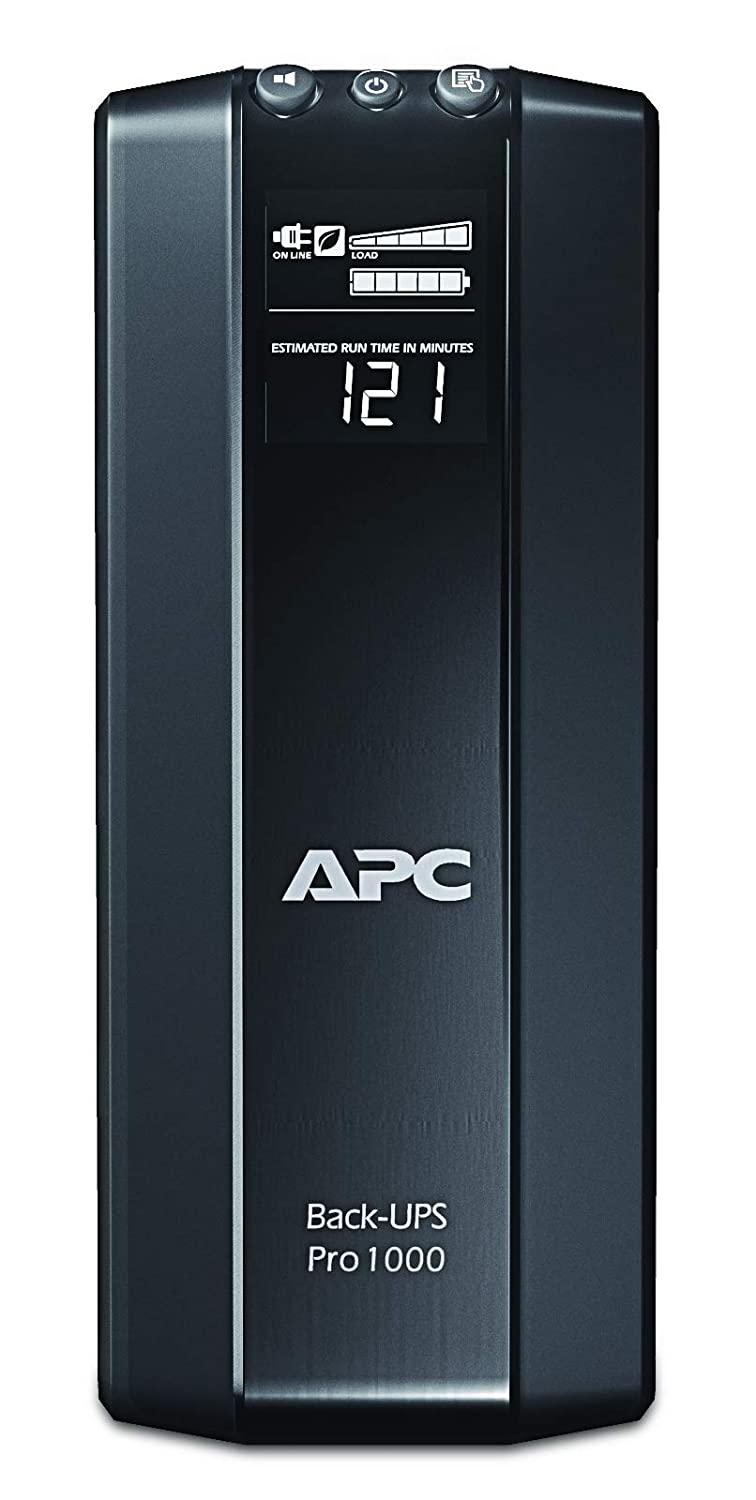 APC Back-UPS Pro BR1000G-IN UPS System is a powerhouse of energy. It has impeccable performance and can function effectively against power failure. Its best features are jotted in the below-provided list:
The battery backup is from the premium range with high performance 

Provides protection for home as well as office appliances like desktop, PC, gaming console, laptop, and home electronics 

It comes along with an assured warranty period of 2 years

It has an LED display that provides the status of the UPS at a single glance 

There are several indicators present that allow you to know the current situation of the device

It has an installed audio alarm that will alert you at the right time

It has surge protected and battery backup outlets 

Protect your digital data from being lost forever 

It is easy to maintain, manage and use making it the best home UPS

According to the power load, it provides sufficient UPS power back up

Batteries can be easily replaced as and when required

Zebronics ZEB-U775 Power Supply UPS is an affordable backup battery that gives electrical support to your PC while there is a power shortage. Its inevitable features are listed below:
It consists of an automatic voltage regulator 

It has a line-interactive UPS

It can start automatically when AC is recovering

Provides a wide input range 

Based with a microcontroller 

This up is compatible with a generator

Protects gadgets against overload, short circuit, over-discharge, and overcharge 

You can charge the battery up to 90% level in around 4 to 6 hours

It comprises an LED light 

One can charge the UPS even when on sleeping mode 

There is an installed audio alarm that alerts the user in case of a fault 

Getting a fair idea of the best UPS for PC through our recommendations will help you get halfway through already. A computer UPS is your best buddy while studying, working, watching, and gaming. Complete your work with full dedication and without any disturbance. Don't let a power failure affect your work mode in any sense. Work until you get exhausted because your computer will never. 
UPS for computers provides the best support to your electronic devices. It protects your device from all evil dangers of power load. 
Frequently Asked Questions
Which UPS is best for PC?
A UPS which is compatible with a generator will help to the smooth functioning of the computer. A UPS with a line-interactive battery that has a surge protector and battery backup systems available. Any of the above-mentioned UPS can work as the best for both home and office appliances. 
Do I need UPS for PC?
One undoubtedly needs a UPS for their PC whether for office or home. A UPS for desktop computers will always protect your PC from a power failure. It supplies an adequate amount of current to keep the computer running and permit you to at least complete and save your important data and securely switch off the computer. A sudden power shortage may result in severe damage to the PC. Here, a UPS will come to your rescue.
How Long Will a UPS Power a PC?
A UPS of computer will power a PC based on the wattage load. It can either power a PC for a minimum of 9 minutes up to 30 minutes. Depending upon the Watts that the UPS generates, the power supply will vary accordingly. If your PC consumes more power, then the UPS is likely to power the PC for a shorter duration. 
What is UPS Capacity?
UPS capacity is the amount of power that the UPS can generate to a connected electrical appliance. It is measured in Watts. The higher the capacity, the more the number of electronic appliances can be connected. Depending upon the number of appliances that you need to connect, choose the UPS with the capacity in accordance with the same. 
Which Electrical Appliances Can Be Connected to A UPS?
Appliances like television sets, laptops, personal computers, desktops, freezers, microwaves, and washing machines can be connected to a UPS.