Headphones have become an integral part of everyone's life. It allows us to multi-task efficiently. You can be on a call and still be working with a good pair of headphones. One of the best things about headphone is that it makes you fall in love with the work you are doing by playing your favorite music, which releases relaxing chemicals and dopamines, which makes your brain think that the task you are now doing is actually good.
Hence, you will do the work next time without complaining and will automatically and unintentionally fall in love with the task or assignment even if you don't like it in the first place. Headphones also enhance your pleasureful time at least ten times.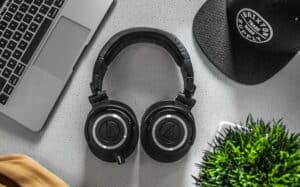 Who doesn't like to hear their favorite music while traveling on a distant road alone? These headphones will cancel the noise out and gives you the best feel by playing the music. You can listen to our favorite podcast and do anything you wish to do without worrying about anything.
But, how would you choose the headphones that best fit you? We are going to help you find out the best one that suits you perfectly in this post.
What Are Your Expectations?
The first step is to find out what you really want. You can list out your expectations or answer the following questions to find out what features you like to have in the headphones you are going to buy.
Do you want headphones to hear music while you are traveling or minding your own business? Or, you want your headphones to be noise canceling and create a private space by keeping the exterior noises at bay.
There are two major types of headphones. In-ear headphones are portable, compact, and lightweight, but they can fall off your ear while you are doing workouts in the gym or going for a jog. However, they don't trap the sweat. On the other hand, On-ear headphones aren't compact but best suited if you are doing any physical activity. But the sponge casing will absorb the sweat and trap it inside in most cases.
Wired or Wireless? Wired headphones are the best if you are gaming or watching live streams as they have less latency and data loss. You can hear the audio with almost no latency and lag at all. Wireless headphones, on the other hand, might have a little lag but don't have any constraints. Buying a wireless headphone might be the right choice if you are traveling or moving a lot.
If you manage to answer these questions precisely, you can find the best headphone for you. However, most people will still be confused, so we will help you to understand the features of each headphone better to make an informed decision.
Types Of Headphones
There are three major types of headphones, namely in-ear, on-ear, and over-ear headphones. The first type of headphones we are going to see is in-ear headphones.
In-ear headphones are the most common type of headphones you will see. They are so popular because of their compact design and other audio-related features. They sit on the ear's canal and provide ventilation to the outer ear and head, which is not the case with other types of headphones.
Most in-ear headphones are cheap and affordable. However, they also have lower quality compared to other kinds of headphones. In-ear headphones with wireless features might guarantee you much lower quality audio. Expensive in-ear headphones might solve this issue, but they won't be budget-friendly.
On-ear headphones are the best alternative if you are concerned about your in-ear headphones falling off. They are much safer but can become a little uncomfortable when used for a longer time. It cancels out most of the noise and provides the best audio quality to its users. If you are keen on the little details of the music and audio, on-ear headphones might be the best fit for you.
Over-ear headphones are the best when it comes to audio quality. They have remarkable noise canceling features and superior audio-res, which is a result of premium quality build. However, they are not as comfortable as in-ear, and on-ear headphones are.
Many have said that using over-ear headphones is pretty uncomfortable and even painful when used for a prolonged time. It can cause the user to sweat excessively on their ear, which makes it pretty uncomfortable.
Over-ear headphones also don't have a compact design and are not meant for portability. However, the audio resolution of over-ear headphones is incomparable and is often sued in audio studios.
Wired Or Wireless?
Wireless headphones are becoming so popular because they don't have any physical constraint that ties us to the phone. The Bluetooth technology will connect you to the mobile devices for a few meters range and effectively transmit the audio data to the headphones.
Wired headphones, on the other hand, require the user to have their mobile phone near them lesser than a meter distance. However, the audio quality of the wired headphones easily surpasses the wireless headphone's audio quality. The latency of wired headphones is also significantly lower when compared to wireless headphones, which is its huge advantage. This is the reason why gamers prefer wired headphones over wireless.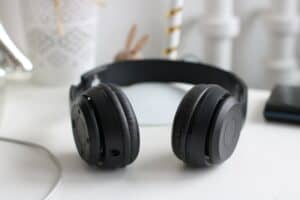 Depending upon your requirements, you have to figure out what type of headphones fits you the best and what technology might better suit you. For example, if you are a cyclist or jogger, you can go with on-ear headphones as they are compact and comfortable. They also won't fall off while you are running or cycling.
If you are a gym freak or casual traveler who likes to hear their favorite music, you may go with wireless in-ear headphones as they are much more compact and comfortable.
People working in the music industry or who require to pay attention to the audio can choose over-ear wired headphones as they have the best audio quality.