The Covid 19 pandemic has led to a significant change in everything we do. It has acted as a fuel to the upcoming era of digital dominance. Working professionals are now attending business meetings through a PC which makes it necessary to know how to use earphone mic on pc. 
From online study and classes to business meetings, everything is being conducted online. This makes a PC the best companion to attend them. This is so because the screen is larger compared to mobile. It also gives a better experience in terms of interaction with colleagues and friends.
It becomes necessary to have earphones with a good mic because: 
One has to speak in between conversations and discussions.

To listen to what other people say.

One can not miss the important discussions.

It can help in saving money. The user does not need to purchase a microphone which may be expensive.
How do earphone mics work in a pc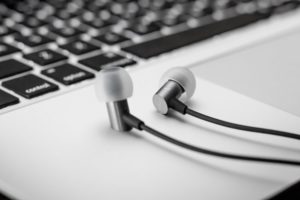 Almost any type of earphone can be simply plugged onto a PC. It can be used with the help of certain modifications. One condition has to be kept in mind. The earphone cord must be the same shape as the jack in the PC.
Earbuds can sometimes cause sound problems. The built-in mics are not able to catch sound signals. This can be a problem in meetings and calls.
Wired earphones or headphones on the other hand work well since they have integrated mics in them. Not to mention that some of them may don't and that is something a user must make sure of while purchasing them.
How to use the mic of earphones on pc
As mentioned earlier in this article, certain setting modifications need to be done. These changes can be made when the user wishes to use their headphone mic while working with their personal computer. The steps are very simple.  There is no need to contact a specialist just for connecting a mic with the computer.
The user needs to  plug in their earphones or headphones into the laptop or connect them via bluetooth. Then, go to the audio settings to set the headphone mic as the default audio device and viola, the process is completed, as simple as that.
To begin with, the process of connecting the mic of your earphone to your PC, connect it with the port made for them. The port is round in shape and can be easily identified.

Next, open up the main settings of your personal computer. Visit the tab for the management of external audio devices. It will show you the list of audio devices as options.

Choose the name of your bluetooth or wired device. Set it as default so that it is easy to connect it the next time.
There is another way to use your earphones mic in your pc. 
Go to the manage audio devices tab in the settings.

Click on the sound panel option.

Click on the record button to use the mic.

Check the sound quality by blowing on it.

The sound quality may not be as good as a microphone, but it is acceptable.

The volume of the mic can be adjusted in the settings. Keeping it too high can cause the voice quality to get disrupted.

The volume must be kept at a moderate level.
Therefore, to sum up, everything that has been stated so far, the process is as easy as making a pancake. The only prerequisite is to be aware of the basic settings of a PC and their modification options. You can also look for inbuilt microphone in your device( if any).
FAQs
1. Can an earphone mic be used on a personal computer?
Answer: Yes, an earphone or headphone mic can easily be used on your PC with modification of settings. The settings may vary with different versions of operating systems. The basic process is more or less similar. The setting tab names are synonymous in different software.
2. Which type of earphones is better to be used for a PC, wired ones or earbuds?
Answer: Wired earphones or headphones prove to be better when one has to work with their mics. The underlying reason for the same is that earbuds usually do not have very powerful mics. If one has to work in a noisy area, it may become tough to listen to what others are saying.
3. Is it necessary to purchase a mic when working with a PC?
Answer: Purchasing a mic is rather a choice than a necessity because earphone mics can be used for this purpose as well. If a user has the economic feasibility to buy specialized ones, they can go for it. And if they wish to save money, then they can work with the ones they have.
Also, check out How To Transfer Data From Laptop To Laptop if you want to transfer data from one laptop to another.