Boat has created quite the sensation in the past few years with its affordable range of consumer accessories. From earphones to Bluetooth speakers, they have given the established houses a run for their money. Boatheads can be seen everywhere, from gyms to public transports. Today we will be comparing boat 235v2 vs boat 255f, from the boat Rockerz range.
Rave reviews from Boatheads across multiple platforms make this Delhi-based startup a trusted and reliable brand. Their after-sales service is equally good. Replacement of products is also very swift with most products coming with a 1-year warranty. Star promoters like Kartik Aaryan and Hardik Pandya help to solidify their image firmly.
We first begin with
boat 235v2 vs boat 255f comparison–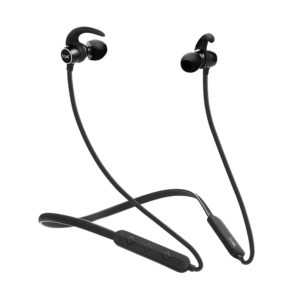 Both of these earphones are popular budget-friendly earphones. Starting with In-ear canal phones like boat 235v2, they claim to cut off all the surrounding noise. Although calling quality is good, but surrounding noise is still an issue. It is best suited for indoor and gym purposes.
235v2 has a comfortable design making it wearable for longer durations. The earphones are lightweight.
This Bluetooth earphone comes with a mega battery life boasting 8 hours of playback time. It has fast charging option.
Boat 235v2 doesn't disappoint in the sound profile. It provides good sound quality. The vocals and mid-highs are well-tuned. Call vibration alert is also another feature.
Next, boat 255f also has a comfortable design and can be worn for long hours. The flat wire is sturdy and not bendable. The earphone is extremely lightweight and the quality is slightly better than 235v2.
The latest batch of boat 255f has been upgraded to Bluetooth 5.0 connectivity. It supports fast charging and claims 6 hours of playback time.
The call quality is a persistent problem with most Boat earphones in the budget range. However, as said earlier, they work well for indoor and workout purposes.
Boat 255f delivers on the heavy bass factor. Side by side, mids, and highs are well balanced too!
Cite, boat 235v2 vs boat 255f difference-
 Rockerz 255f has better and lighter built. On the battery front though, 235v2 scores a major point for its extra battery life. Boat is known for its dominating bass sound, and 255f delivers cleanly on this front. The biggest downside though of 255f is, unlike Boat 235v2 it doesn't come with Call Vibration Alert.
These are the salient differences between both the premium quality earphones.
Next,
boat 235v2 vs boat 255f pro comparison–
 In-Ear earphones with built-in microphones and wireless connectivity- the bottom line of both earphones. 255f Pro comes with IPX7 water-resistant quality while 235v2 provides the IPX5 feature. With lesser charging time and more playback time, 255f pro is a major upgrade and leaves behind boat 235v2. It even comes with SBC, AAC, aptX Bluetooth codec support.
Result-
boat 235v2 vs boat 255f which is best?
Both come with fast charging, water, and sweat-resistant feature, voice assistance, and dual pairing capability. But, Boat 235v2 has two significant features to provide it the edge –
1 . Call Vibration Alert
Extra battery life
boat 235v2 vs boat rockerz 255f: final comments –
The best part is both of these earphones provide premium features found in pricier earphones at such affordable rates. Rockerz 255f is well appreciated for its fit ear hooks and QUALCOMM chipset. Available in multiple colors, the earphones give a sleek and stylish touch to any attire one wears. And anyway, Boatheads love flaunting their Boats!
Finally, boat rockerz 255 sports vs boat rockerz 255f –
After such elaborate comparison and discussion, it can be concluded that indeed, boat rockerz 255 and boat rockerz 255f are flip sides of the coin. Often asked, whether one can use the earphones while charging, the answer is no. They both have wingtips included. 255 comes at a lower price with the same features, and therefore is a better buy.
Boat has maintained its position as the top truly wireless company and leads the TWS market share in India, as per Counterpoint. The company got a marketing boost thanks to marketing campaigns, especially during IPL 2021 campaign. The master strategy of providing high-tech features to the average Indian at affordable prices has made it an approachable brand. Next, the brand is eyeing tie-ups with major phone manufacturers to sell their products as add-ons.
FAQs
What is the difference between boAt rockerz 255 vs 255f?
The main difference is their price range. 255f is slightly pricier than rockerz 255. The build and quality are mostly the same. They both come with 3.5mm headphone jack.