Product

Features

Kent 16030 (850W) toaster

5 browning levels Defrost and reheating option Cancel button available Wide slots

Bajaj ATX 4 (750W) pop-up toaster

Variable browning settings Mid-cycle cancel feature Removable bread crumb tray 2 slice toasters

Prestige PGMFB Sandwich Toaster

Non-stick heating plates Elegant black body finish Fixed grill plate Affordable price

Pigeon 2 Slice Auto Pop up Toaster

Cool touch body Variable browning control Easy slide crumb tray Bread centering device in-built

Morphy Richards AT-201 (650W)

High-lift feature 7 setting browning control Anti-slip design Wider slots Removable crumb tray

Borosil Super Jumbo BGGRILLSS23

4 slice grilling Excess oil tray on offer Thermal fuse for added safety Non-stick grill plate Knob controlled heating

Russell Hobbs 18790 1250/ 1500 W pop-up toaster

4 slice pop-up toaster 7 stage heat setting Dual browning option available Bread centering in-built Extra wide slots

Cello quick pop-up 300

Aluminium covered upper plate Stainless steel bread crumb tray High-lift feature Cord storage available 700w power consumption
In the tech-advancing world, we live in, where everything has become electronic; right from mail to vehicles, kitchen appliances are no exception. Here we take a look at the best toaster in India. Electric toasters have become an integral part of a kitchen. So, to begin with, a toaster is a small kitchen appliance that is used in browning the bread slices. It is designed to expose the slices of bread to heat radiation which in turn browns the bread and makes it a toast.
Now, two types of toasters are available in the market.
Pop-up type toasters
Conveyor toasters
Grill-sandwich toasters
Pop-up toasters, also referred to as automatic toasters, works using heat radiating filaments on the internal sides of its body. A vertical piece of bread is dropped in the slot that is present on the top of the toaster. To toast the bread, a level is pushed downwards and the filaments and heating elements get activated. Once the toasting cycle is complete, the toast pops up automatically. The heating time or the toasting cycle can be set using a knob, lever, or buttons present on the toaster. The brand that sells the best pop-up toaster in India is Bajaj.
Conveyor toasters are used for the same functioning but at the commercial level such as in restaurants. These are preferred for large-scale toasting and commercial food service situations. Conveyor toasters toast the bread slices at a rate of 300 to 1600 slices an hour.
Sandwich toaster India is a very commonly sold kitchen appliance. It is so because of the functionality it offers. The Indian consumers love the grilled sandwich and this sandwich toaster is a perfect blend of a bread toaster and a sandwich maker. The grill sandwich toaster price in India is relatively less and that is the selling point of this item.
Various kitchen appliance brands these days have started manufacturing transparent toasters in India. This not only enhances the overall look of the product but is also practical as you can see your bread toast to perfection. The best transparent toaster in India is sold by Morphy Richards.
Pop-up toasters are good for common households as they allow one-sided toasting, they have various slots, they can power heat elements of only required slots instead of all of the available slots, and the slots' depth, length, and width can be chosen depending on your requirements.
There is another additional category of toasters known as a toaster oven. These oven cum toasters are small and compact countertop ovens that serve the purposes of reheating, toasting, baking, broiling, browning, and defrosting small food items. Toaster oven in India is available from numerous brands at affordable prices with premium quality features and finishing.
Best toaster in India – Buying Guide
Factors to keep in mind while buying a toaster in India
Buying toasters can be tricky. You do not want to invest your money in something that you will hardly use. Everybody has different requirements and you should look at a product that fulfills all of them. Here you will find the basic factors that should not be ignored while buying a toaster in India.
Browning options: Choose the toaster that suits your browning preferences. Many toasters come with different crispy options and colors of toast.
Slot size: The slots of your toaster should be deep enough to fit all sizes of bread. This brings perfection to the toasting cycle.
Defrost option: Sometimes you might have to thaw a cold bread; while buying a toaster make sure it has a defrost option which makes the thawing process easier.
Durability: The material used in the manufacturing of the toaster parts should be durable and sturdy. The toaster should last long.
Ease of cleaning: The toaster must have easy cleaning options as you will be using it regularly.
Cleaning tray: The toaster must have a removable tray to easily clean the bread crumbs that remain after toasting.
Features: The basic features like cancel button, crumb tray, convection heating, and self-adjusting guides should be available.
Brand: The toaster's brand shall be a trusted and reliable one. Cheap brands sell their products at a lesser price but compromise on the quality and after-sales service.
Cost: Do not buy a very expensive toaster if your usage is just basic. Keep in mind the average cost of the product category you are looking in.
Best toaster in India Reviews
List of best toasters in India 
Kent is a trusted and one of the best toaster brands in India. This model also features the 'best toaster in India' category too. It comes in a brick red color that will surely enhance the look of your kitchen.
Option of 5 browning levels.
Features defrost and reheating options.
A cancel push button is available.
Wide slots for toasting big bread.
An automatic pop-up toaster that weighs just under 1 kg.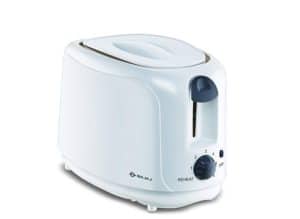 Bajaj is the oldest and most reliable kitchen appliances brand in India. It is also the best toaster company in India. The ATX 4 model is one of the best bread toasters in India.
Variable browning settings on offer.
Mid-cycle cancel feature.
Removable crumb tray available.
2 slots for 2 slices of toasting.
2 years of manufacturer warranty.

Prestige is a renowned kitchen appliance brand in India. It offers many products for the Indian kitchen and has earned its consumers' trust over the years by providing excellent service and product quality. This model has been featured in the 'Best sandwich toaster in India' category.
Non-stick heating plates on offer that allow better heating.
800W power consumption.
Fixed grill plates do not let the bread move an inch while toasting or grilling.
Attractive and elegant black body finish.
1-year manufacturer warranty.
Attractive and affordable price.

While Pigeon might be a newcomer to the toaster market, it has made its mark. The exceptional after-sales service and product quality have made it a reliable kitchen appliance brand in India. This Pigeon toaster is in the race for the best toaster in India too.
750W power consumption.
Variable browning control.
Cool touch body.
Removable and easy slide-out crumb tray.
Bread centering device for even toasting of the bread slice.

Morphy Richards is a British kitchen appliances brand that is very popular in India. Its AT-201 pop-up toaster model is an easy-to-use toaster that is in the list of top 10 toasters in India and is feature-loaded.
Hi-lift feature to remove the small size bread slices from the slot.
7 setting variable browning control.
Wider slots and removable crumb tray on offer.
Anti-slip design.
Automatic 2 slice pop-up toaster.
Cancel button available.

Borosil is a relatively new brand in India that is offering a wide range of toasters. This model is a 2000W grill sandwich maker. The sandwich toaster price in India is about Rs. 5,000 and is worth the amount. This sandwich toaster has the best toaster reviews in India in its category.
Large plate for 4 slices grilling.
Excess oil can be removed using the oil tray.
Thermal fuse for improved safety.
Knob to control the heating temperature.
2000W power consumption.
Comes with a cleaning spatula and a grilled sandwich maker.
Non-stick grill surface on offer.

Russell Hobbs is a renowned British kitchen appliance brand that has entered the Indian market and is offering premium quality appliances at attractive prices. The 18790 model is the best 4 slice toaster in India at the moment. Not many brands manufacture 4 slice toaster in India, thus this foreign product is sold even more.
Premium 4 slice Best Toaster in India with a stainless-steel design.
7 stage variable heat settings.
Dual browning control on offer.
Extra-wide slots to fit in all sizes of bread.
Bread centering facility available for even browning of bread.
Reheat, cancel, defrost option buttons available.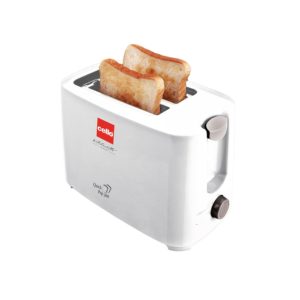 Cello is an Indian kitchen appliance company. This pop-up bread toaster India is one of the most affordable and good quality products available in the market.
Aluminum covered upper plate.
High-lift function to retrieve small pieces of bread.
Stainless steel bread crumb tray available.
Non-slip feet on offer.
Cord storage feature with a carrying handle.
Power consumption is 700W.

FAQs
Which bread toaster is the best?
The best toaster in India is offered by many brands. However, the best brand in India to buy a toaster from is Bajaj. Bajaj offers a wide variety of kitchen appliances with very reliable after-sales service. The products are of excellent quality and there is no compromise on the features.
Which is the best 2 slice toaster to buy?
The best 2 slice toaster available in the Indian market is Morphy Richards AT-201 which is accompanied by Bajaj ATX 4.
Who makes the best 4 slice toaster?
The best toaster in India which can toast 4 slices at a time is made by Russell Hobbs which is a British brand that sells its products in the Indian market as well. 4 slice toasters of the Borosil brand are also considered very good in terms of quality, features, and durability.
What is the price of a bread toaster?
While the price of a Best Toaster in India might vary depending on the brand and the model it is offering, most 2 slice pop-up toasters cost around Rs. 1,500 in India. The sandwich-type toasters can cost you a little more but they come with the added functionality of grilling and making sandwiches. The most expensive toasters are the premium 4 slice toasters and premium sandwich toasters. The average cost of these is Rs. 5,000.
How do I choose a bread toaster?
The factors that should be kept in mind while buying a bread toaster are browning options on offer, slot sizes, durability, ease of cleaning, features, brand, and number of variable heating settings. These factors should always be considered while buying a toaster for your kitchen.
Is it safe to put buttered bread in a toaster?
No. This should never be done as the butter will melt and scorch, which might end up lighting the toaster on fire. However, you can use a toaster oven for toasting buttered bread.
Which is the best sandwich maker? 
The best sandwich makers available in the market are offered by Bajaj, Borosil, and Prestige. Any sandwich maker from these brands is worth your money.
How long do you toast bread in a toaster?
You must toast the bread until it becomes perfectly golden brown. This usually takes about 60 to 90 odd seconds.
Is bread healthier when toasted?
A toasted bread will comparatively have lesser fat than regular bread. The difference is not significant for somebody who eats bread occasionally. If you regularly eat bread and watch your weight, you should always go for toasted bread.
Summers can be traumatizing, and to get some relief we have The Best Air Coolers in India that will provide you a sigh of relief in this summer.