Product

Features

Fire-Boltt SmartWatch SpO2 Full Touch 8 Days Battery Life, 1.4 inch, IPX7 with BP, Sports Tracking, Heart Rate, Compatible with Android And iOS, and Fitness.

Full touch screen Heart rate tracking SPO2 monitoring Blood pressure check Sport and fitness tracking Sleep monitoring 8 Day battery life HD display

Noise NoiseFit Evolve Full Touch Control Smart Watch with AMOLED Display

Full touch control Selectable watch faces AMOLED display Advance health tracking Multi-sports mode IP68 rated waterproof 3 day battery Full smartphone notification Music and camera control

Amazfit GTS2 SpO2 Level Measurement mini, with 70+ Sports Modes, Super-light Smart Watch, Built-in Amazon Alexa, 14 Days' Battery Life, Built-in GPS, Sleep & Stress Monitoring, Heart Rat.

Super-light and thin Personalised watch faces Heart rate and sleep quality monitoring Online voice assistant SPO2 and stress level measurement PAI heath assessment system 70+ sports mode 14 day battery life

CrossBeats Trak Bluetooth SmartWatch (Compatible with iPhone Samsung Android)

All day alerts In-app GPS tracking Music control Sleep tracking Breathe training Flashlight Faux leather strap 9H mineral tempered glass Water intake reminder

Realme Watch with 15 Days Battery Life, SpO2 & Heart Rate Monitoring

Large touchscreen with auto-brightness Heart rate and blood oxygen monitor 15 day battery life 16 sports mods IP68 water resistance 100+ stylish watch faces Premium aluminium alloy case Smart control Corning gorilla glass

AQFIT W15 Waterproof | Activity Tracker | Metal Case | 4.2 Bluetooth | for Men and Women | Full Touch Screen Display

Full touchscreen display IP68 waterproof Multi-sports mode 6-8 days battery life Calories count, sleep monitor Water reminder Anti-lost feature

Pebble Pace Smart Watch with Full Touch Dynamic Colour Display, Multiple Sports Mode, Built-in oximeter, HR, Sleep and BP Monitoring

100+ watch faces Easy accessible dashboard Multiple sports mode Magnetic charger Sweatproof and waterproof Weather forecast

Noise ColorFit NAV Smart Watch with Built-in GPS and High Resolution Display

Hand wash reminder 10 sports mode IP68 waterproof Customizable watch faces Bright and vivid display Trained with GPS Smart notification

ROY IMAGING V8 Bluetooth Smartwatch with Camera SIM Card Slot & Pedometer Display Touch Screen Microphone for Android & iOS Phones

Mobile watch function Anti-lost function Fitness future Remote photo function Support android 4.0 and above version and iOS 8.0 or above function
Smartwatch is a great way of carrying computer-based information in a compact manner which is convenient yet fashionable to wear. In this article, we will come across the best smartwatch under 5000 to enrich your classy watch collection or initiate one.
They furnish their consumers with a touchscreen interface for the customary use and basic everyday use functions as well as may include peripheral devices such as calculators, games, cameras, thermometers, pedometers, altimeter, barometer, compasses, heart rate monitor Wi-fi, and  Bluetooth connectivity. Some models are known as watch phones which deliver mobile cell functionality like generating calls.
The internal hardware of many such watches ranges, however many electronic visual displays are developed either with backlit LCD or OLED. These watches are generally powered by a rechargeable lithium-ion battery.
Smartwatches nowadays continue to be a niche. However, its fan base is increasing incredibly over the past few years. Not only for style statement but also as a fitness tracker and other health-related feature is demand is surging heights.
Best Smartwatches Under 5000 – Buying Guide
 If you have decided to buy yourself a smartwatch, you must make sure that you are getting your hands on the perfect one to provide not only convenience to basic everyday activities but also bringing out the classy, fashionable, and stylish self of you.
Factors to look for buying the best smartwatch under 5000
 Getting your hands on the best smartwatch is indeed a tricky business because there exist numerous aspects to contemplate before you slash the cash. The factors you should consider before purchasing a good smartwatch for yourself are:
i) Compatibility and the Operating System it runs
The compatibility of your smartwatch with your existing smartphone is a very important characteristic to assess. If it isn't compatible with your handset then either you need to change your existing smartphone or the watch is all into the drain. A no-go is buying an Apple watch when you have an android phone in your hands. Most mobile phones lie under the category of iOS or Android. So make sure that the operating system of your watch is friendly with that of your phone. Moreover, you all require Bluetooth connectivity to assure that all the amazing features are utilized by you.
ii) Display along with rates
 The new brands are all into the game and throwing themselves in the fray making a vibrant market for the consumer and expanding their option section considerably. The display of these watches is the center of temptation for the buyers and is a significant factor to conclude as to which watch he/she should buy. OLED displays are employed by the top brands. However, there prevail other screen options such as LCD or AMOLED screens.
Opting for the display is not a matter of choice entirely but one needs to check his/her pockets as with a different display comes a different price.
 iii) Features
Smartwatches are wearable mini-computer that possess several features amongst which fitness tracker and health-related traits are of great use and should be on your list when buying a smartwatch. Moreover, they are very handy and thus don't carry the complication of squandering the time in unnecessary checking. The other options to look for are :
Heart rate monitor to keep a close eye on your heart rates
GPS tracker is also a must-go-to tracking down the location if you are down to cycling, running, or hiking.
Sleep tracker is also on the buyer's back of the head.
Calorie Counter and Pedometer for the fitness freaks out there.
Water Resistant for the clumsy gang out in the planets.
Bluetooth Connectivity, the most crucial aspect to be kept in mind before buying.
Clock to keep track of time
Alarms to improve your sleep schedules.
iv) Battery power
 It is a very annoying affair with smaller battery life. One should make sure to consider the life of the battery before putting one hands-on on any smartwatch. Smartwatches are proven to have a short span of battery life no matter to which brand they belong. However, they vary from brand to brand. All you need to do before selecting is determining the purpose for which you are buying a smartwatch and calculating the probable time it might take to finish. Accordingly, you will have your best shot in no time at the smartwatches. Therefore, the battery is a very critical facet to keep under contemplation.
v) Durability
 Life is a messy relationship. Between multiple works, it gets very engaged and busy. Hence you need to make certain that your smartwatch is no less than you and can balance in the way you do. One aspect to give a thought upon is the design. If you will be wearing a sleek and low-profile watch it might be easier to carry. However, if you are wearing a big and bulky watch you might hit it against desks or tables. This will result in cracking of the display thereby incurring an overhead expense. Along with this, don't ignore the water-resistance feature as every time you will wash your hands, the inconvenience of removing the watch stands beside it.
vi) Style
This world is a unique space and everybody has their taste and preferences. This makes everyone unique and stylish in their ways. While some will choose a classy black or brown band others might go for a pink or a purple band. In the vibrant market of smartwatches, one has many options to try or even personalize the smartwatches for themselves or to gift their near and dear ones. However, in my opinion, one should strive for something that will alter his/her personality in a better way and fills him with more confidence. So remember a smartwatch can even alter the way you look at yourself and that is indeed very important.
Best Smartwatches Under 5000: Review 
Best smartwatch under 5000 with spo2 / best smartwatch under 5000 with bp monitor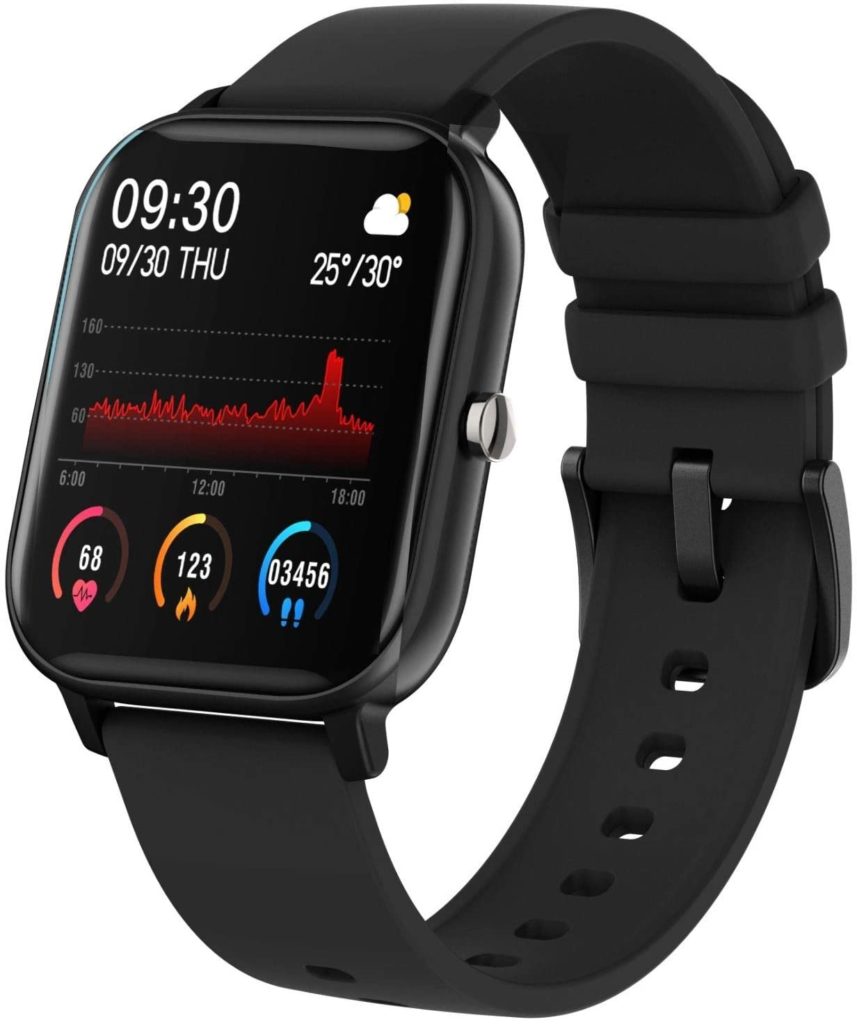 This is the first-ever best smartwatch under 5000 with SPO2 function. The best smartwatch under 5000 with bp monitor which is a good-looking yet affordable smartwatch. While some brands don't manage to upgrade their battery life, this smartwatch has a battery life that lasts for over a week.
Features
It has an optical heart rate sensor with real-time monitoring of heart rate during exercise.
It has a blood pressure monitor that reads your systolic and diastolic blood pressure.
It has an 8 days battery life to avoid the continual charge and focus on your daily activities.
It helps in measuring steps, distance, and calories simmered.

Best smartwatch under 5000 with amoled display
 The best smartwatch under 5000 with amoled display is wireless with a touchscreen interface smartwatch. Perfect equipment to redefine your style. This has advanced health tracking and multi-sports mode.
Features
It has stylish and customizable bands.
It also allows full smartphone notifications.
It has music and camera control.
It comes with a reliable 9 sports mode that tracks your daily activities. 

Best smartwatch with all features under 5000
 The best smartwatch with all features under 5000, Amazefit is a wireless connectivity type with a button interface. It is super light and thin to wear. It is comfortable to wear day and night and even during sports activities.
Features
It is equipped with 24 hours heart rate monitoring.
It has an Amazon Alexa Built-in to ask any question at any time.
It has a 14 days battery life.
It comes with 70 plus sports modes. 

Best smartwatch under 5000 compatible with iPhone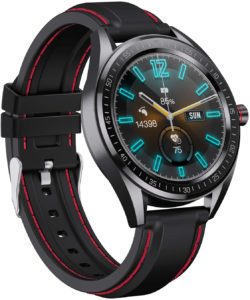 The best smartwatch under 5000 compatible with iPhone, this water-resistant watch with Bluetooth wireless connectivity is a perfect treat for stylish fashionista. It has an elegant display with flawless designs and exclusive features.
Features
It has an inbuilt GPS tracker
It has sedentary alerts of water intake reminders.
It comes with faux leather straps.
It has a 9H mineral tempered glass.
It is equipped with all the basic smartphone functions.
It possesses many sport modes. 

Best smartwatch under 5000 in India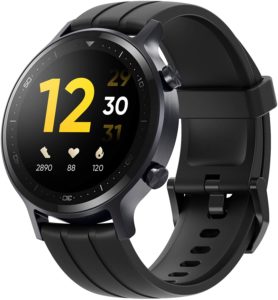 The best smartwatch under 5000 in India, it has a touch screen human interface type with wireless Bluetooth connectivity.
Features
It is outfitted with an enormous shading touchscreen that adjusts its brilliance to the environmental factors, giving you an open to review experience both inside and outside.
It can screen your blood oxygen level (SpO2) and pulse status and give exact wellbeing information giving you a superior comprehension of your wellbeing.
A 2 hour charging time delivers 15 days of battery life.
It provides sport assistance with 16 plus sports mode.
It comes with a premium aluminum alloy case

Slim and sleek with a zinc-magnesium alloy body, this watch is considered the best smartwatch under 5000. It is made of a comfortable food-grade silicone sash, artistic layout, carbon texture back case, unibody structure, and vast screen display.
Features
It has a standby time of 60 days
The battery lasts for 6-8 days on regular rigorous use.
It is a waterproof companion.
It has 15 different sports modes.
It is equipped with all the basic smartphone functions like a camera, music, etc.

Best smartwatch under 5000 for female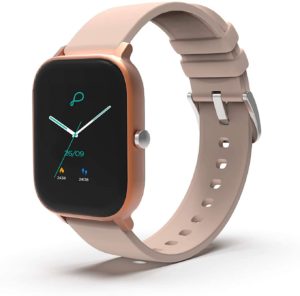 A technological marvel, this is the best smartwatch under 5000 for females. A quintessential blend of fashion and convenience. It helps you stand out of the crowd then whether you are attending a party or a formal office meeting.
Features
It has an inbuilt speed pedometer and multiple workout modes.
It comes with a 14 days battery backup.
It is sweatproof and waterproof equipment.
It comes with multiple sport modes.
It is equipped with anti-lost characteristic. 

Best smartwatch under 5000 with GPS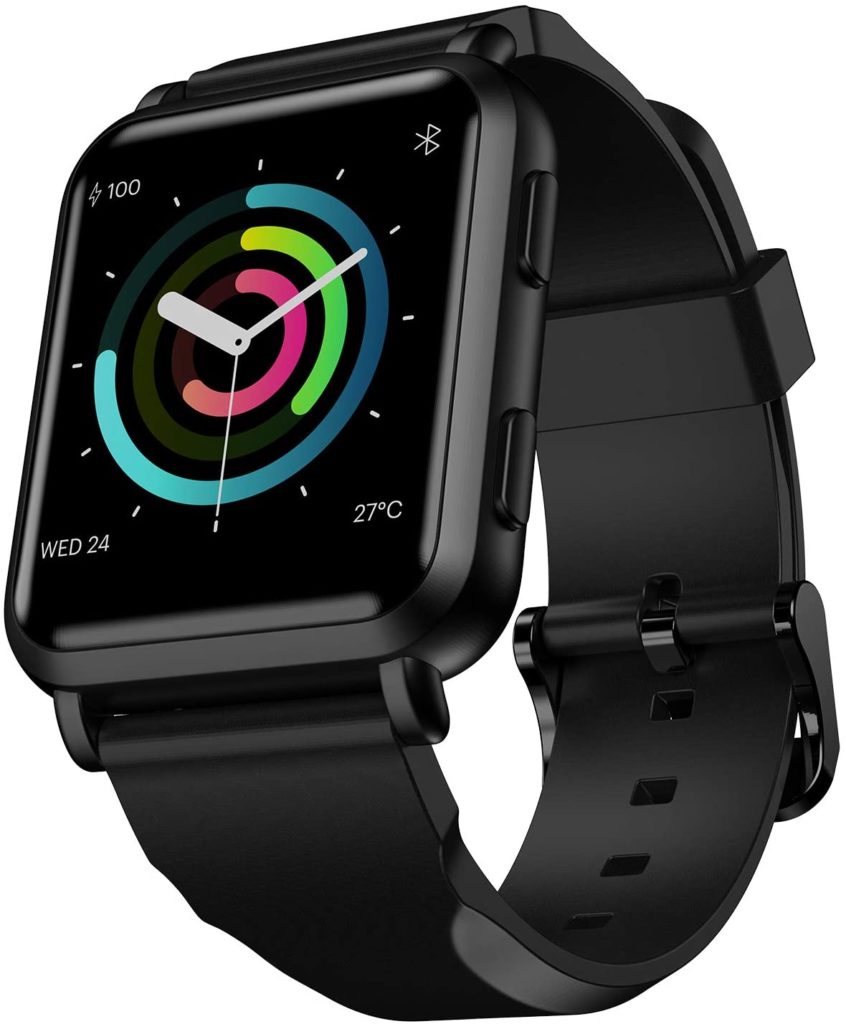 From India's No. 1 brand, this watch is the best smartwatch under 5000 with GPS. It has customizable and cloud watch faces.
A water-resistant, with wireless Bluetooth connectivity, has the following features.
Features
It finds the tempo and the race pace.
It has a bright and vivid display.
It has customizable and cloud watch faces.
It has a sedentary alert for washing the hands.
It is equipped with 10 sports modes. 

Best smartwatch under 5000 with microphone / best smartwatch under 5000 with camera
 This is the best smartwatch under 5000 with a microphone human interface. It also delves as the best smartwatch under 5000 with a camera, making it popular and trendy in the market. It works as a phone with a micro-SIM card and a micro SD card. A smooth working device you can't wish to miss.
Features
It has an anti-lost function for people having a tendency to lose things easily.
It keeps track of your sleep patterns and your daily step count.
It has a photo function to take photographs using the watch.
It supports android 4.0 or above versions and iOS 8.0 or above versions, for the iPhone series.

You can Also Find best-smartwatches-under-10000
FAQs
 Q1 Are smartwatches only for men? 
Traditionally, smartwatches were nerd contraptions focused on a dominatingly male crowd. In any case, things have unquestionably changed in the course of the most recent decade. Ladies are presently similarly prone to possess a smartwatch as men. Nowadays, there are some extraordinary smartwatches for ladies available, just as extravagance smartwatches for men.
Q2 Will smartwatches replace smartphones?
You can settle on decisions, writings, and installments, peruse your most loved applications, and even track your wellbeing on a smartwatch. All in all, certainly, it won't be long until smartwatches supplant cell phones, isn't that so? All things considered, perhaps. The primary reasons why smartwatches haven't completely supplanted cell phones yet are:
(1) Few groups favor the bigger screen of a cell phone.
(2) Many smartwatches still need to 'converse with' a cell phone's organization or piggyback of its GPS so they are not completely autonomous.
Q3 Are smartwatches worth it?
 Before purchasing their first smartwatch, the vast majority ask themselves, 'Is a smartwatch truly awesome?'. We think smartwatches offer extraordinary worth, however, not all smartwatches are appropriate for all individuals. To benefit from claiming a smartwatch, it is imperative to pick the correct model.
Q4 Can smartwatches work without smartphones?
 There are a couple of smartwatches that don't need a cell phone The drawback to this cell phone opportunity is that it'll deplete the battery of your smartwatch. The option in contrast to a cell association and the additional expense is to discover a smartwatch with wifi abilities. This implies you shouldn't be close to your telephone. Your smartwatch will not have the option to send messages, yet in the event that you use web-based courier administrations like WhatsApp or Messenger, you can keep in contact.
Q6 Can smartwatches play music? 
Numerous smartwatches can play music. Some interface with wifi to stream music. Some interface through Bluetooth to your remote earphones. Some have an implicit capacity for use as an mp3 player. Some will combine with your cell phone's music player.
A smartwatch can be truly convenient in the event that you need to appreciate hands (and telephone) free music. You can handle your music with a basic tap on the presentation.
Q7 Can smartwatches play games?
 Smartwatches have consistently accompanied a type of game. They haven't invested a lot of energy building up this element on the grounds that the advantages aren't sufficiently incredible. For what reason would you need to utilize a little screen for games? This will likewise deplete the battery rapidly.
All in all, however, in the event that you need to mess around, the alternative is in reality there. There are applications you can download to your watch. They're chipping away at Pokemon Go, which may be a definitive smartwatch game
If you are in the market for a good smartwatch with a higher budget we will recommend you to check out The Best Smartwatch under 10000, which will really help you in your buying decision.