Product

Features

Acer C200 LED Projector

One of the best projectors to use at home Lamp life of 30000 hours Multiple interfaces Great HD resolution

3D, 4k, 2k, LED=DLP Wi-Fi, Bluetooth Android Projector from Play

Wireless sync display Integrated efficient cooling system Lightweight, easy to carry- Portable 3D and 4K projector.

Epson EB S41 Projector 

HDMI port for great connectivity Long lamp life and perfect brightness Horizontal keystone slider for correction No rainbow effect on the colours projected

EGATE i9 full HD and LED projector 

Built-in speaker for amazing audio quality Integrated digital display zoom with x and y-axis controls
HDMI and SD card connectivity Throw distance of 6 feet.

Full HD 3D DLP home projector from BenQ

Cinematic colour technology for great picture quality DLP projector with full HD resolution 3 different modes for home entertainment Easy to install by yourself
Bringing the big screen home is now an easy task with amazing projectors available these days. Many brands now offer great varieties of projectors. You can choose to buy the home projectors to get a great theatre experience at home. Or if you are a professor or part of a school or college, you can use it professionally for a better teaching experience. You can even buy projectors to take on the go while you are traveling, on a road trip, etc. So purchasing a projector is one you will not regret. It is a great investment for anyone.
Best Projector In India – Buying Guide
But choosing the best projector in India can be a tough task owing to this confusing number of brands and types available. This is why we are here to help you. But before we get into which are the best projectors you can buy in India, let us first see what are some of the factors you need to look for while shopping for projectors:
Factors to consider
One of the main things to look for while choosing a projector is the screen size. 

Most importantly, look at the width of the screen. 

Make sure you check the throw distance- it is the distance between the projector and the screen. 

You should have a basic idea about how much ambient light is present in the room you are planning to use the projector in. 

Decide whether you want a home projector, a pocket projector, a multimedia one, etc. before you start the shopping. 

Also, decide on a budget so that you can look for a product inside that price range. 

Carefully look through the specs and features of the one you are looking at before you decide to pay for it. 
Now that we know the basics of what to look for and note,
Best Projector In India Reviews
This is one of the best projectors in India that you can buy for a wholesome experience. The EGATE i9 LED projector has an amazing screen resolution of 800*480. It will change your living room into a movie theatre. This projector displays the true color of the movie or video etc. and has a contrast ratio and optimized brightness that can be adjusted to your needs. 
It is easy to install the product with simple controls. You can just plug in your pen drive or connect it directly to your laptop or desktop and voila, it is all now present on your big screen. This product is specially made for the Indian consumer. This is because it is resistant to heat and dust. This projector from EGATE was made to keep the harsh and tough conditions of India. 
There are various pre-designed modes in the projector such as the movie mode, picture mode, etc. It can change the whole ambiance of the room. So now, let us look into some unique features of this product:
It comes in two types- i9 and i9 real HD projectors. 

These are the perfect products for the home theatre experience. 

The product consists of multiple interfaces- HDMI, VGA, USB, AV, and SD CARD, audio out.

There is a 30000 hours lamp life in the projector.

The brand provides a one year warranty on the projector. 

This is one of the best projectors for the home in India. 

Great HD screen resolution.

This model of the projector from the Play range is the best projector you can find in India. It has a brightness of about 7000 lumens and the source of this light is LED. It is great to use as a projector at home. It is a full HD viewing video projector with 4 different projective modes: ceiling, mirror image, back projection, and throwing. 
The product weighs about 2 kg and has a power of 50 W. It is one of the best for that price range with a great resolution. The projector also has a keystone correction of +/- 40 degrees physical correction. This is one of the most amazing projectors in amazon. The projector-style is DLP and the best part about this is that it is portable. You can carry it with you while you go traveling, making it your perfect travel companion. 
It comes with a contrast ratio of 20000:1- 100000:1. Now let us take a lot at some of the stand-out features of this projector: 
The projector has a wireless sync display. All you need to do is show your phone to the big screen to watch movies, play games, etc. 

It consists of an efficient cooling system to make sure the temperature of the projector is within a safe range. 

It is one of the best projectors for home because it is a great home projector. 

There are built-in dual-band Wi-Fi and Bluetooth 5.0 for connecting to devices. 

Also has a built-in Android 6 OS that helps you surf the web, play games, etc.

It is lightweight, small in size, and easy to carry while traveling, making it portable.

One of the best 3D projectors and the most amazing 4k projector available.

It is no surprise that this EPSON EB S41 product is the best projector you can find in India. It has a brightness at 3300 lumens and a high contrast ratio of 15000:1. It also consists of SVGA resolution. This one of the best video projectors and has a lamp life of 10000 hours if operated in eco-mode. 
The product also has a keystone correction slider in the component which helps in making adjustments easily. It is a great HD projector and one of the best projectors for home theatre. The wireless connectivity technology only makes it easier to get what you need on the big screen. Considering other projector prices, this is an affordable one. It also consists of an auto power-on function that ensures the presentation is detected and projected automatically. 
This EPSON EB S41 the perfect projector for a small or huddled meeting room etc. Here are a few more great features of this amazing product which is the best you can get your hands on:
This product has an HDMI port through which you can connect it to various devices. 

It is a 3 LCD projector. 

The colors projected on to the big screen as true colors and it is assured that there will be no rainbow effect. 

The horizontal keystone slider helps in making screen corrections easily. 

It has easy control buttons on and off the product and you can also observe the temperature of the projector. 

It has a pretty long lamp life. 

The brightness is perfect and not too overpowering.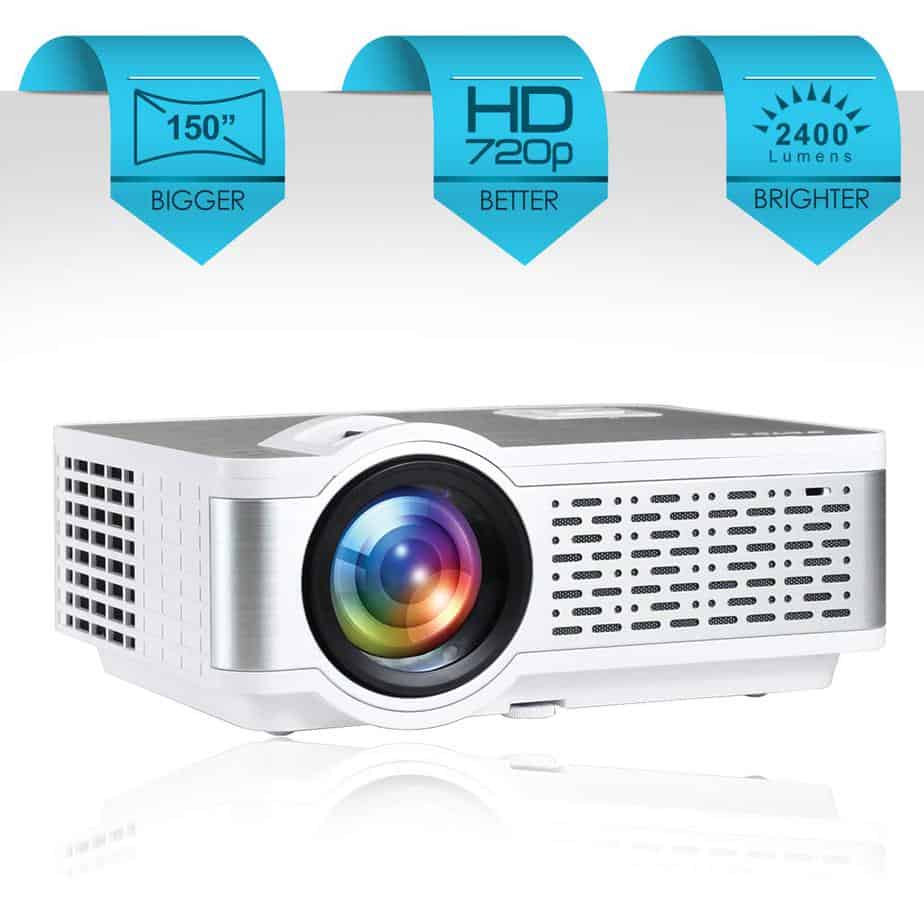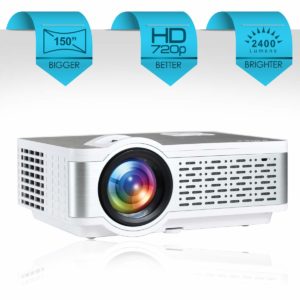 This EGATE i9 LED HD projector is the best projector with a price mark that is affordable and great picture quality. It is one of the best projectors for a home in India. This i9 LED projector provides a large display on the big screen and has a brightness of 2400 lumens. The product can function until the maximum distance of 6 feet (throw distance).
The display type of it mentions that it is an LCD projector. It can be connected through VGA, HDMI, and USB port. This product from EGATE comes with remote control for easier access and control. It has a high contrast ratio of 1500:1. The projector boasts of providing a 150-inch wide screen theatre experience for its viewers. 
There is just one port to which other devices, pen drives, etc. can be connected to this projector for your home. The images provided as an output from the projector is crystal clear and sharp with the perfect brightness. Let us take a look at some more unique features of this projector from the EGATE i9 range:
This projector is the best home projector. 

It comes with a built-in speaker for great sound quality. 

It provides digital zoom with x and y-axis controls. 

It is very easy to connect this projector to a TV set-top box, a PC or laptop, a PlayStation, a DVD player, and even a Fire TV stick. 

The connectivity technology used is VGA, HDMI, SD card slot, AV, and Audio Out. 

The projector comes with a lamp life of 30000 hours and an aspect ratio of 16:9.

The 24000 lumens of brightness set the perfect ambiance for a great experience. 

This is one of the best when you are thinking of buying projectors from companies in India. It is a full HD projector with amazing resolution (1080P support). The new feature of the RGBRGB color wheel integrated into the projector helps it reach the Rec. 709 standard.
This is the best projector in India that will help you bring the cinema experience home. This range of projectors' price is extremely affordable when you take into consideration the lamp life, contrast ratio, keystone correction, DLP, etc. It comes with a high contrast ratio function that gives way for the finest details of the pictures or videos or movies being projected at home.
The projector for your house also comes with 3 modes for home entertainment- Sport Mode, Vivid TV Mode, and Cinema Mood. The 2200 ANSI lumens brightness of the projector makes sure the images on the screen provide the perfect experience at home. Here are a few amazing features of this product which is one of the best projectors in India:
The image quality provided on the screen is theatre-like with this HD DLP projector's HDTV standard. 

The BenQ Cinematic Colour technology helps in providing authentic color accuracy.

The projector has a contrast ratio of 1500:1 and a brightness of 2200 ANSI lumens. 

This range of projectors support HDMI and also supports the mandatory 3D formats, making them function also as 3D projectors.

This DLP projector is perfect for your home as the throw distance is pretty short. 

It is extremely easy to install and it contains a vertical keystone for keystone correction.

There are 3 adjustment feet.

This is one of the most amazing projectors in India due to multiple reasons. This SVGA projector's features such as its HDMI support, keystone correction, etc. are just simply perfect for your needs. It can be used as both a classroom and a business DLP projector.
These projectors with up to 3600 lumens of brightness and an led lamp of 1500 lamp life are ideal for a video purpose. It is a range of excellent projectors with HD resolution which is great for watching movies. It is better than most other projectors of this price range. The size of this projector is 24.0*33.2*9.9 cm and weighs about 2.38 kg.
If you opt for this product, then you can rest assured to have a great ambiance in your classroom or your office. Your projector will stand out from others mainly for its high quality. It is perfect to project things on to a large screen and is one of the best you can get your hands on. Now, let us take a look at some other unique features of this range of projectors in India: 
The projector for classrooms or businesses contains 1 USB port for connecting to other devices, hard disks, pen drives, etc. 

It provides a brilliant image and video quality on the large screen. 

It has 3600 ANSI lumens and a 1500:1 contrast ratio.

There is an exclusive Infographic mode that helps to showcase the texts and graphics in great detail.

The smart eco-mode helps in saving the lamp life up to 70%.

The dual HDMI helps in providing faster data transmission.

The ergonomic retractable foot and the vertical keystone slider helps to make easy adjustments.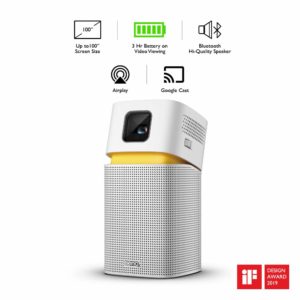 This portable projector helps you take your entertainment wherever you go. It is a battery projector that is designed specifically to work as a wireless projector. It is one of the most stylish portable projectors you can find in India. This could easily become your ultimate travel companion that accompanies you on any journey you take. A Bluetooth speaker is also available in this LED projector. 
This projector for travel purposes comes with the connectivity of USB-C, the latest Wi-Fi, and Bluetooth technology. It is built to fit your palm, making it compact and easy to store. The auto keystone adjustment helps in making corrections very easily. The led lamp life is up to 30000 hours in these projectors. The battery in these projectors has a lifespan of 3 hours. 
There is a portable Bluetooth speaker with a built-in 5- Watt chambered audio. The USB port is an all-in-one port, making it very compatible too. Choosing great projectors in India is made easier with this brand. Take a look at some of these amazing features in this projector made in India:
This wireless projector comes with a portable Bluetooth speaker making it perfect for carrying around. 

You can take it literally in any place with you. 

It comes with a convenient tilt-hinge that will help you find the perfect angle. 

The auto keystone adjustment and correction function make it easier to keep the picture perfectly squared.

The speaker has a great audio quality that brings out clear, sharp yet powerful music or sound. 

This projector with LED has both Android and iOS support. 

The projector is compatible with any big screen up to 100 inches.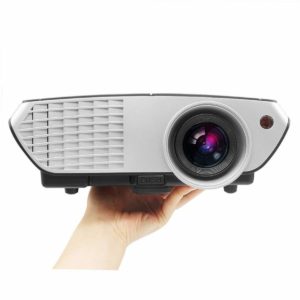 This projector made in India is perfect for you to install in your home. It is led with a throw distance of 8 feet approximately. Projectors in this range from Play have an adjustable resolution, HDMI support, and an SD card slot. The Wi-Fi connectivity of this projector is a non-Android version. It also has 3D support. 
The projectors from Play come with many components such as a VGA cable, 3D glasses, a power cable, etc. They also come with an AV cable for connections. The display technology used in this projector is LED and it is perfect for a great cinema at-home ambiance. No batteries are required to be inserted for this projector to work. 
It uses an AC power source and DVD, Blu-ray, AVI, MPEG, and WAV are the digital formats included in this projector. The output sound from this range of projectors is at 32 decibels. You can use this projector for bringing that film theatre experience home. Now take a look at some of these features that make this projector one of a kind in India: 
The projector comes with a multi-function input for VGA, HDMI, USB, AV, and SD card. The dual USB and HDMI ports make this easier. 

You can connect it to your TV, laptop, PC, etc. or even to your gaming consoles like a PlayStation, PS4, X-Box, etc. so that you can play games on a big screen.

The fans in the projector will work alongside the projector's functioning to keep a check on the temperature. 

The best projection or throw distance suggested is 5-9 feet and the perfect projection size is 49-90 inches. 

This was our list of great projectors made in India. We hope you found your best projector in India in this group. Projectors are great to have at home and also sometimes a necessity in classrooms, offices, etc. You can purchase your projector for many uses. They are not only great for watching movies, pictures, or videos but also perfect for putting up presentations, etc. 
There are more than 1000 different types of projectors available, all unique in their specs and features. You have to go through them closely before you make a selection. Finding the right projector is made easy with our list. Each of them can be compared to others and each of them will not be the same in any way. So go through all the ones listed and buy the one that suits your needs and fits your budget perfectly! 
FAQ
Which is the best projector in India? 
The LED i9 projector with HD resolution from EGATE is a bestseller on Amazon and can be considered as the perfect one for you. With a long lamp life and a keystone slider that is easy to adjust, you might find it hard to find a projector that can surpass this one in its features. This projector made by an Indian company also has an 800*480 native resolution and 1500 lumens. 
Which brand is best for projectors in India? 
EGATE is the top brand when it comes to projectors in India while EPSON is the no: 1 seller and manufacturer of projectors in the world. They are the brands and companies you should be looking into if you are planning to buy a high-quality projector for yourself. They are great for projectors and their products are always on top of the field. 
What is the cost of projectors in India?
The cost of projectors from India, that is their price range, varies from products to companies. The price will increase or decrease depending on the specs and features involved. It also depends heavily on the brand you are buying from. If you are buying for personal use, like to use as a projector for home, you may not want to spend a lot of money. But if you are choosing a projector for a professional need or a classroom, then it is always safe to choose ones of great quality.
What is the best low-cost projector? 
There are a few brands that offer projects at low costs that are affordable by anyone. One such brand is EGATE which provides great projectors with amazing specs and features even from the price of 5000. Their projectors are in price ranges that anyone can handle. So, EGATE is one brand that provides projectors of great quality for low costs. 
Also, check out the 7 Best Router in India, if you are looking for Routers in the market.