Product

Features

Panasonic 23 L Convection Microwave Oven

This product comes with a starter kit 360o heat wrap feature spreads the heat equally and cooks evenly It contains 126 preset auto cook recipes Baking loaves of bread becomes easy with the fermentation feature The oven comes with a 1-year warranty

Samsung 28 L Convection Oven

With the slim fry feature, you can enjoy oil-free fried foods Child lock is helpful when there are young children around The best oven in India in terms of customer service The product has a 1-year warranty and the magnetron has a 5-year warranty 134 in-built auto cook recipes

Morphy Richards 20 L Solo Microwave Oven

It is a basic microwave for small families Reheat and defrost features The product has a 2-year warranty The overheating sensory system automatically shuts down the oven when the time is up It comes with a glass turntable

Inalsa MasterChef 16 L OTG

It heats up quickly and is energy efficient It is an oven, toaster, and grill, all in on. It has a warranty of 2 years. Compact countertop design and easy to install It has a 4-ways heat setting and 2 rack positions

Haier 25 L Convection Microwave Oven

25 L capacity is enough for a family of five. You can bake, cook, defrost, reheat and grill It can be used as an air fryer for health-conscious people It comes with a glass turntable, roller ring, and a coupler. The stainless steel cavity protects against any leakage
We are going to take you through all the steps of buying the best oven in India but before that let's see why do you need an oven. Do you often work late and do not want to cook when you get home? Ovens are here to make your life easier. You can heat some leftovers in a couple of minutes and have a hot, delicious meal. So simple and fast! Are you a housewife and want to make delicious snacks for your kids. Ovens are the easiest way to do that. They come with pre-set recipes that are very easy to access.
With ovens, you can constantly keep innovating and learning exciting new things! Are you a teenager who took the resolution to learn baking every year but never did? Well, buying an oven will get you one step closer. Ovens are perfect for baking cakes, pies, cupcakes, etc. impress your family members by showing off your baking skills.
If you have guests coming over then serve them hot dishes fresh from the oven and witness how your guests praise you and ask for your secret recipe. You can choose among many different styles and designs and give an extravagant look to your kitchen. It has many practical features which we will discuss later.
Difference between convention and convection ovens
Heat source- A conventional oven uses a heating element at the bottom to cook. The dish closest to it will get cooked faster. But a convection oven uses a fan or air ducts to circulate the heat and cook everything evenly from inside out. Convection ovens can be converted into conventional ovens by switching off the fan.
Types- A conventional oven has two types; solo and grill. Solo ovens are used to defrost and reheat. Grill ovens are one step ahead. They do everything a solo oven does, plus, they can be used for grilling. A convection oven can do all of this and more. They can cook, boil, bake, grill, etc. They are very versatile and have lots of options.
Heat distribution- A conventional oven does not distribute the heat to all the spots. There are cool spots and heat spots. The dish nearest to the heating element will run the risk of getting overcooked due to the excessive heat. Whereas the dish away from the heating element will remain undercooked due to very little heat. A convection oven spreads the air everywhere evenly and all the dishes get cooked easily in less time.
Best Oven in India – Buying Guide
Convection- This is an important factor to consider. Convection ovens have a fan installed in them to circulate the heat and distribute it evenly among the space. This gets the oven heated up fast. When you open the door of an oven to put a dish inside, the heat doesn't rush out. It remains intact because it is present in every corner of the oven. All good ovens have a convection heat system. It saves time and energy. This has proven to be very efficient and convenient.
Efficiency- Everyone knows that an oven is a heavy machine and uses a lot of energy very fast. So, you need an oven that is efficient and gives the best results while consuming less energy. Refrigerators and air conditioners have stars on their label which tells us their efficiency. Ovens also have labels with their efficiency on them. Make sure to check the label before purchasing an oven. It might be a little costly but it will benefit you in the longer run.
Size- Ovens come in various sizes. They can come in 20, 25, 28 liters, or any size in between. The size depends on the number of members in your family. If you are cooking for 3-5 people then an oven of 25-30 L would be best. If you are cooking for more than 5 people then you should buy an oven of more than 30 L size. The size of your oven also depends on the amount of cooking you will actually do in it. If you get a bigger size and don't use it more often then you won't get your money's worth.
Self-timer- What if you put in a batch of cookies but you don't hear the timer go off? To see all the time and effort you put in go down the drain would be really upsetting. You need an oven that automatically shuts down when the time is over. The technology just keeps getting better and keeps making our life easier. Good for us! With the new and best oven in India, even if you forget to turn off the oven, it will not catch fire and burn down the house. This safety feature is a must if you have children who are always distracting you. Be safe, be smart!
Price- Here comes the most important question, are you going to use the oven often, or are you just buying it because all your friends have one? Many Indian households cook mostly on the stove and they don't have much need for an oven. If you are buying an oven to make a style statement, then don't. But if you have much use for it then go and buy it. You can get a great oven within your budget with many great features.
Important features of the best ovens in India
An oven will change your life and make it so much easier. It will save you so much time and efforts that go into cooking a wholesome meal. With ovens, you can cook hassle-free while getting a great taste. But if you are still a little skittish about buying an oven, then here is a list of advantages to convince you:
Convection– Any food you can cook in a traditional oven can be cooked in a convection oven also. But grilling and baking are its strong suits. Convection ovens circulate the heat evenly and grill the food perfectly from all sides. It gives a nice brown color and even texture to loaves of bread.
Capacity– Convection ovens come in various capacities. There is a size for everybody. If you live alone, or with friends, or with a big family, we have got you covered. The capacity varies from 20 L to 30 L with every size in between. 20 L ovens are perfect for 2-3 people. For 3-5 people, buy an oven with a capacity of 25-30 L. for more than five people, you will need an even bigger oven than the 30 L capacity.
Faster cooking– It takes less time than any gas or electric oven. It is because they combine the microwave energy with the power of convection cooking. They come with multiple racks so that you can cook more than one dish at a time. It takes less time because you can also preheat the oven.
Efficient– As the food gets cooked faster in a convection oven; there is less amount of energy used. It will not put a strain on your purse strings because it is energy efficient and will not generate a massive electricity bill. A convection oven is a one-time investment. It will give you your money's worth in no time.
Easy to clean– Most convection ovens come with a steam clean feature which makes it easier to clean them. They are also compact in design. They take up less space and take less time to clean than a traditional oven. Some ovens come with a crumb tray. The crumbs and pieces which fall are collected on the tray. You can easily take out the tray and clean it.
Flavors– Due to the circulation of air in the oven, the food gets evenly cooked inside out, sealing all the juices inside. This retains and amplifies the natural flavor of the food. Delicate foods get an even-textured look and do not get overly dry.
Versatile– These ovens can cook various types of dishes. You can bake, cook, reheat, defrost, broil, ferment, roast, etc. If you like to innovate new kinds of dishes and are passionate about cooking then this would be perfect for you. You can take chances and come up with new recipes in the safety of your home. Impress your family by concocting new and yummy dishes.
Space– Its compact design saves space in your kitchen. Traditional ovens are bigger in size. With a convection oven, you get all the same features and then some, with less space. They can fit in a small corner of your kitchen. These are ideal for people who have less kitchen space.
Auto shut–off– The auto shut-off feature is very helpful in so many situations. It will automatically shut down the microwave in case the temperature gets too high. If you put in something to bake or roast and the oven gets overheated then the auto shut-off feature will come into play and save the day. If the timer goes off and you don't hear it then also this feature will be an advantage. It will shut down the oven and keep your food at the same temperature.
Autocook feature– Convection ovens come with a huge variety of different types of food. You can choose the code of your desired food and enter its weight in the system. The oven will set the power mode, temperature, and timer suitable for the food type automatically. You can have any food that you are craving any time you want with minimum efforts. It will save you time and energy.
Child lock– You can't keep young children out from the kitchen if you are baking their favorite chocolate cake! But this could be very dangerous. Kids should not get too close to an oven when it is on. That is why convection ovens with a child lock feature so that the kids are not able to open the oven door and get close to the hot dishes. Very useful for households with young kids.
Rotisserie– Some ovens come with grilling equipment that can be used for barbecuing, grilling, roasting meat or poultry, etc. some ovens also come with a starter kit which includes oven-friendly dishes and a bowl to get you started.
Defrost/Reheat– You can defrost any frozen food by using the defrost feature. And you can reheat your food anytime. These are very useful features. If you are craving a snack at midnight, then you can easily heat up the leftover pizza. It is very easy to use. You can either use the auto-defrost option or you can set the time and temperature manually, depending on the weight of the food.
User interface– The controls on a microwave are simple to understand. The control panel can be of different types. One type is the screen touch panel. Everything can be accessed by just one touch. There are symbols for all the cooking options. The touchpad is sensitive to touch and easy to clean. The second type of panel consists of a jog dial. You can rotate the dial to set the desired time and temperature. It is a convenient way to do so.
Deodorise– When you cook different types, they release some odor that remains in the oven. This odor may not go even after you clean the oven. You don't want your oven to smell like boiled vegetables, do you? Thanks to this feature, the oven stays odor-free at all times.
Combination cooking-Combination microwave offers more versatility than a traditional oven. They combine the power of convection with that of a grill so that you can use multiple features all at once. If you use combination cooking then you can grill and bake at the same time which will cook, roast, crisp, and brown your food nicely with an even texture.
Air fryer– An air fryer cooks the kind of food which needs to be fried, like French fries, with minimal oil but gives you the same taste and crispiness. Convection ovens also have this feature where they cook oil-free food but manage to retain the same flavor and taste like fried food. This feature is for all health-conscious people or people with a cholesterol problem. They can now have any food they want without having to worry about the calories.
Best Oven in India Reviews
23 L is a big enough size to cook for a family of four. It looks very stylish and has a compact design. It has a compact design and can easily fit on your countertop. It is spacious from the inside. It is a convection oven so it keeps the heat intact. It has a 360o heat wrap feature which spreads the heat evenly in all directions. It has a whopping 126 preset auto cook items. All of those are oil-free so you can have all the samosas and kachoris you want without feeling guilty. It is not just a microwave, it is a micro chef!
It comes with a starter kit that includes a glass and metal trays, a wire rack, and a warranty card.
It comes with a 1-year warranty.
It has a touch keypad and every feature is easily accessible with the touch of your fingertips.
It has vapor clean technology and is very easy to clean.
You can bake any bread or dough with the fermentation feature.
Grilling and baking become easy because of the 360o heat wrap which cooks everything evenly.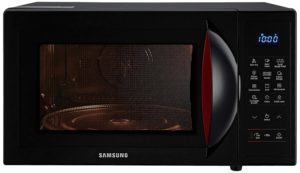 28 L capacity is more than enough for large families. This oven comes ready to use and does not require any installation. Just plug it in and you are good to go! It comes with really cool and exciting features. The child lock feature ensures the safety of your children.
This is very useful for houses with young children. The slim fry technology lets you enjoy healthy food without any oil. It has a glass turntable fitted inside. It is multi-functional. You can grill, reheat, defrost, and cook. It is very simple to use. All the features are accessible on the touch keypad which is very easy to clean.
The oven comes with a 1-year warranty
Enjoy delicious homemade yogurt and bread with the fermentation feature.
It comes with 134 preset auto cook items which are also accessible from the Samsung app.
The ceramic enamel cavity is scratch resistance and comes with a 10-year warranty.
The magnetron comes with a 5-year warranty.
It is one of the best ovens in India with great customer service.

It is a basic microwave and perfect for small families. It is great for a bachelor's use or for people who live far from home due to work. You can easily reheat or defrost anything. The product includes a glass turntable, instruction manual, and a guarantee card. It has a mirror finish door. It comes ready to install.
A free demo will be given to you by the company. You can contact the customer service to schedule a demo. It comes with two jog dials to change the settings. The concept is really simple. One dial is used to change power settings according to the dish you are cooking. The other dial is used to set the timer and change the temperature. It is the best oven in India under 5000.
The dials have a long-lasting life.
This microwave oven comes with a 2-year warranty.
It can be used for baking cupcakes and potato chips.
Overheating sensory protection automatically shuts down the oven in case it gets overheated.
You can make many mouth-watering dishes in no time.
Become a chef and impress many by bringing home this oven.

It gets heated up in 2-3 minutes. It is energy efficient with a power of 1300 watts. It is an oven, toaster, and a grill all in one. It cooks fast and saves time. It also saves money on the electricity bill. It has a wide range of temperatures, from 100 to 250 degrees Celsius. It is designed in such a way that it cooks everything evenly. It has heating rods at the top and bottom to cook with perfection.
It is a compact countertop model. Its sleek black design gives it a stylish look. You should never use ceramic or plastic dishes in it. Only use metal plates. It comes with a grill tray, baking pan, crumb tray, and a tray handle. You can easily remove the crumbs and pieces that may fall during grilling with the crumb tray. It is very convenient and easy to clean.
This OTG comes with a warranty of 2 years.
It has 4-ways heat settings and 2 rack positions to cater to your multiple needs.
It is a multi-tasker that lets you bake, broil, rotisserie, and toast.
It has a 60-minute timer with a stay-on feature for long baking processes.
It comes with a clear glass door so that you can see your food while it is cooking.
It has a large capacity and can fit a 9-inch pizza or a casserole.

It has 25 L capacity which is sufficient for a family of five. The convection oven heats up very fast and cooks the food evenly from all sides. It has so many great features to make your life simpler and healthier. It a multi-tasking device on which you can bake, defrost, reheat, cook, and grill. Every feature is easily accessible from the touch keypad.
It is very easy to clean. It comes with child lock so that your children are always safe. The oven comes with a glass turntable, a roller rink, and a coupler. The reheat and de-frost features come with different settings for different types of food. It is proven to be very helpful. It also has a combination feature with which you can do two things at the same time. For example, you can do cooking and baking simultaneously. It saves time and energy. It means having fewer dishes to clean.
It has an oil-free mode which lets you cook healthy dishes that everyone loves.
The memory feature is very useful and can be used to cook your desired recipes again and again.
It has over 305 preset auto cook recipes that can be prepared in no time.
It comes with a 1-year warranty on the product and a 3-year warranty on the magnetron.
Its other features include fermentation, deodorizing, steam cleaning, preparing paneer and ghee, etc.
The stainless steel cavity enables better heating and prevents leakages.

IFB is one of the most reliable brands in the market and this is the best oven in India. The 20 L capacity is useful for small families. Convection ovens can be used for reheating, defrosting, baking, grilling, and cooking. The microwave frequency is 2450 MHz. The brand also provides a starter kit along with the package.
There is a feature called weight defrost. It lets you enter the weight of the food item into the system and then the oven can take it from there. So simple! It saves time and energy. It is the best oven in India under 10,000. It can also multi-task. You can grill and microwave simultaneously to give a nice brown look to the food. It has a compact countertop design. There is a big-screen display to show the timer.
It has 24 auto cook recipes.
It comes with a child lock feature to ensure the complete safety of your children.
The touch keypad is sensitive and easy to clean.
The product comes with a 1-year warranty while the magnetron and the cavity have a 3-year warranty.
It has different power settings which you can set according to your preference.
It has a memory feature that can store 3 types of cooking cycles.
It is one of the best oven in India for baking.

The 25 L convection oven is useful for families with 3-5 people. Its interior is made from stainless steel which heats quickly and protects against any leakages. You can use a stainless steel cleaner to clean the steel surface. This is a sleek, black countertop model and does not need to be installed. It comes ready to use. It has six different power levels. The jet start feature is unique to whirlpool only.
With just one touch you can quickly reheating food items like soups or coffee. Jet start mode automatically starts reheating at the maximum power level with a preset timer. It comes with a unique feature called 3-D crisp technology. In this, the microwaves enter the cavity through 2 enter points, giving us the best top and bottom crispy results.
It comes with many accessories like a European crisp pan, 2 grill racks, a steam accessory, a special crisp panhandle, and a turntable.
The magnetron comes with a 2-year warranty.
The special non-stick Villaflor cavity coating makes the oven easy to clean, eco-friendly, and hygienic to cook
It has 11 preset auto cook food items. You can choose anyone and the oven automatically sets the right temperature, timer, and power setting.
The 3-D technology heats up the oven to 210odegrees in 2 minutes.
The crisp and bake technology makes it easier to bake different items evenly.

The 17 L capacity model is perfect for small families and bachelors. It can be used for cooking, reheating, and defrosting. It comes with 2 jog dials to control the settings. The jog dials are of good quality and are long-lasting. The first dial controls the power settings.
There are 5 power levels and you can set one according to your needs. The second dial is to set the timer. The timer range is 30 minutes tops. It is a simple microwave used for minimal purposes. But it is very efficient and can reheat or defrost very fast. It is the best oven in India under 5000. It yields an output of 700 watts. The high power output leads to faster and efficient cooking.
If you don't grill or bake often, then this is the perfect product for you.
The timer starts chiming once it is finished.
The product and the magnetron, both come with a 1-year warranty.
It has a compact countertop design and can easily fit anywhere in your kitchen.
It has great customer service and has got good reviews from happy customers.
You can also use it to bake cupcakes, mug cakes, etc.

LG 21 L is suitable for 2-4 people. It can be used for baking along with cooking, grilling, reheating, and defrosting. The brand provides a starter kit with the product. The starter kit includes 2 big curry bowls, 1 idli stand, 1 jasmine serving bowl, 2 spoons, and 1 spatula. The oven comes with 5 power levels and auto-defrost options. The child lock feature is very useful to ensure your child's safety.
The whole package includes an oven, a glass tray, a roller rink, a recipe manual, and a cookbook. The steam clean option is very convenient and makes it easier to clean the oven. It has a stainless steel cavity which is very efficient and saves time. It heats the oven quickly. It comes with 151 preset auto cook recipes and 101 Indian auto cook recipes.
The touch keypad is sensitive and easy to clean.
It offers features like fermentation, steam cook, bakery menu, two-stage cooking, combination cooking, and quick defrost.
This convection oven comes with a 1-year warranty.
It has an auto cook menu specially designed for health and calorie-conscious people.
It keeps the food warm for up to 90 minutes after shutting down the oven. The heat remains intact due to the stainless steel cavity.
You can easily prepare delicious curd and paneer at home in no time.
It is the best oven in India for home use.

28 L capacity is sufficient for a family of five. Bosch ovens come with seven different cooking modes. They include convection for baking, grilling, tandoori, motorized rotisserie, defrosting, and reheating. It comes with the fry lite function. This special feature is for health-conscious people or for those who have medical conditions. With this special feature, you can cook foods like French fries or vegetables with a minimum amount of oil. You will still get the crispness of fried food but without the bad cholesterol.
The whole package comes with a baking tray, two grills, a fry lite tray, an easy user interface, and a rotisserie spit. It is a freestanding oven and installation is not required. You can call the Bosch customer care and request a free demo if you need it.
You can have perfectly roasted dishes at your home with the rotisserie feature. It will fill your kitchen with a wonderful aroma.
The microwave comes with a borosil kit which is oven-friendly and will come handy to store or reheat any food.
It comes with 121 preset auto cook recipes across 8 categories of snacks, desserts, rice, appetizers, etc.
The oven has a 2-year warranty and the magnetron has a 7-year warranty.
You can have any fried food with the same taste but without any oil.
The door is protected from the microwaves which stop automatically if the door is opened.

We have now looked at all of the best selling products available in the market. You are equipped with enough knowledge to decide what is good for you and buy the best oven in India. You can get a solo microwave or an OTG or a convection oven. Any oven you choose should depend on your needs.
We did a complete analysis of each of these kinds of ovens and you know the purpose of all of them. A solo oven is will provide minimal but long-lasting features. It is used for basic purposes and not grilling or roasting. An OTG and convection oven will provide you with all the high tech features which will allow you to bake, cook, grill, etc.
We came across the word auto cook many times while analyzing the products. If you are thinking that the oven will automatically cook any dish, you are wrong. It is just an ordinary oven, not a magic oven! The meaning of the auto cook is that you select the code for a dish from the given list, along with its weight (quantity), and the oven will set the power mode and the cooking time for that dish. Auto defrosting also works in the same way. All you have to do is enter the weight of the food to be defrosted and let the oven do its magic. You can also manually select the power and set the timer for defrosting if you want.
If you live with your family then some features are a must. The child lock feature ensures the safety of your children. If you happen to leave the oven unattended for a minute and there are wandering children around then it could be fatal for the children. Better safe than sorry! Rotisserie is also a good feature. It means, to grill. People get bored from eating the same kind of food every day and once in a while, they want to eat something new. This feature makes grilling and barbequing easy and fun. Make new dishes for your kids in a hygienic environment in no time.
The self-stopping timer is also a very helpful feature. If you happen to vacuum after putting something in the oven and you don't hear the timer go off then you are running the risk of burning down your kitchen. With a self-stopping timer, you can go and relax with no tension of switching off the oven. It will automatically stop the microwaves and shut down. Good quality ovens also keep your food at the same temperature until you come and take it out.
Dos and Don'ts
Always make sure that your dishes are microwaving friendly. Never use plastic containers in an oven because it will melt.
Do not use metal dishes until it says so in the instruction manual.
Always read the user manual very carefully before operating the oven.
Request a demo if you are buying an oven for the first time. Most companies offer a free demo.
Always use oven-safe paper or cooking bags to cover your food. Aluminum foil and metals reflect the waves.
While reheating, stir the food from time to time to ensure even heating of all the food particles.
Don't heat baby's food or milk because the hot spots can burn the baby's mouth.
Clean the oven's interior and exterior after using it.
Do not let your kids come near the oven while it is on. Do not let your kids operate the oven either.
Do not handle microwaved dishes with bare hands. Always use oven mitts because the dishes will get hot.
Do not operate the oven when it is empty.
Do not overload your oven by putting in multiple dishes at once.
Use dishes with lower sides to enhance the air circulation at the bottom.
Frequently asked questions
Which type of oven is best for home use?
The answer to this question depends on your lifestyle. If you live alone and you only need to reheat or defrost your food every day then a solo oven would be the best fit. If you live with your family then you should invest money in a good, all in one oven for the best and latest features like auto cooking, grilling, baking, etc.
Which oven is best for bread?
Convection ovens are best for baking loaves of bread because they distribute the heat equally in the whole interior and bake the bread evenly from all directions. The internal fan circulates the heat quickly and evenly which bakes everything quickly and gives it a nice brown complexion. Convection ovens can be used in all sorts of goods like cakes, brownies, pies, or any other type of dessert.
What is the best brand for ovens?
This is a very difficult question to answer. When you decide to buy an oven you want all the best features to be in it. You want good capacity with easily accessible features and energy efficiency. There are many brands that would offer you all of these features. But a brand is not best because of its features, it is best because of its good customer service and brand reliability. IFB and Samsung are two such brands. They both have the best brand credibility. Both of them have a great company-customer relationship and many happy customers as proof of that.
Which is the best OTG oven in India?
Morphy Richards is the leading company in manufacturing OTG across the world. They are the best because of the excellent features and service. It is easy to clean. It is long-lasting and will give you your money's worth. It also comes with a 2-year warranty. These are some of the many good features of Morphy Richards OTG. Refer to the above product description for a more detailed analysis.
Is microwave oven harmful?
According to popular beliefs, a microwave emits harmful radiations and depletes the nutrient value in foods. This is nothing but a myth. Not all radiations are bad. Microwave ovens emit electromagnetic radiation. The microwave energy is converted into heat as it gets absorbed by the food. It does not make the food contaminated.
Ovens are protected with metal shields and do not let the radiation escape. About the nutrient value, well, every cooking method decreases some nutrients. It is because of the high temperature.  But in microwaves the temperature is low and cooking time is also less, which means that it actually retains more nutrients than any other cooking method.
Can I open the door of the oven when baking bread?
The moisture in the bread dough turns to steam due to the heat inside the oven. This steam enables the dough to rise up. Meanwhile, the yeast keeps producing carbon dioxide, which results in more rising of the dough. When the temperature gets high enough, all the yeast cells die and the dough stops to rise. The shape and size of the dough are now set. If you open the oven door before the dough has risen then the heat will escape and it will take more time and energy to heat again.
Can I cook pizza in a convection oven?
Yes! You can surely cook a pizza in a convection oven. With the convection settings, your pizza will get evenly cooked from all sides. You will get a perfectly crisp crust and with a soft and doughy middle. All you have to do is select the pizza settings from the auto cook menu and put in the pizza dough. You can leave the pizza in the oven for a few more minutes after the timer goes off for a more crispy crust. A convection oven is great for baking anything from pizza dough to cakes. Take advantage of the exciting features and discover the chef inside you.
Should I preheat the oven before cooking?
Different types of food require different settings. You don't need to preheat the oven if you are cooking meat or poultry because they can get overcooked. But when it comes to baking, you should preheat the oven in mid preparation. So that when you are done with the preparation, the oven will have reached the desired temperature, and you can put the batter in immediately. This will save you time and energy.
How does a microwave cook food from the inside?
Microwaves are emitted from an electron tube inside the oven called the magnetron. The inside of an oven is made from metal that reflects these waves and then they get absorbed by the food. Microwaves cause the water particles in the food to move which generates kinetic energy. This energy produces the heat by which the food gets cooked. That is why food with high water content gets cooked faster.
What will happen if I put non-safe bowls inside the oven?
All the instruction manuals from different brands will tell you not to put non-safe bowls in the oven for good reason. If you put plastic dishes they will melt in the oven and plastics emit harmful radiations when exposed to heat. There are two kinds of ceramic dishes; safe and non-safe. If you use the non-safe dishes then they may get cracked or break completely due to the high temperature. Some glass bowls can also break if they are not oven safe. Always be sure to check what kind of bowls you are buying and whether they are oven-friendly or not.