Product

Features

LUMINOUS RC 18000 150 AH Tall Tubular Battery

A patented unique alloy composition for corrosion resistance A void-free uniform grain structure for consistent performance Flexible gauntlet for correct fitment

Amaron Inverter 150Ah Tall Tubular Battery

Low (almost zero) maintenance Low lead reserve High heat tolerance threshold

EXIDE INDUSTRIES 150Ah Insta Brite Inverter Ups Battery

Float guide that indicates electrolyte level Hybrid Alloy System to minimize water loss Dual plate separation to prevent premature failure

V-Guard VJ145 135AH Flat Tubular Inverter Battery

Compatible with inverters of all brands Reliable
Provides backup for long periods

Ratan Power OKAYA SL-600T Jumbo Inverter Battery, Multicolour

The manufacturing process is eco-friendly Low antimony alloy Plates with double the usual thickness
If you are affected by power cuts, an inverter is a product you are looking for. It is an appliance that provides power back up. Today, we all are highly dependent on electrical and electronic devices for daily activities. A power cut is enough to bring our lives to a halt. Therefore, the inverter has also become a necessity today. What is an inverter without its battery? It is quite important to decide which is the right inverter/battery for your home. Each home's power requirement would differ. Thus, there is no one brand of battery that would suit all homes. Here, we shall see which is the best inverter battery, what are the factors one must consider while buying a battery inverter.
Best Inverter Battery – Buying Guide
Given the options that we have today, it can be quite confusing to decide the best batteries for the inverter. This decision cannot be made simply based on others' preferences or advice. Therefore, here is a collection of important facts that one must look into before buying a battery for an inverter. We shall also see the important parameters and features that are present in the best inverter battery.
Factors to look for
Maintenance

: Just like any appliance that is frequently used, inverters battery also requires proper maintenance. Irrespective of the brand of battery, you will have to maintain it. However, the ease or difficulty in maintenance depends on the design of the inverter battery. Generally, it is easy to maintain a tubular battery than a flat plate one. How long your batteries last is dependent on the amount of distilled water you can fill. In a battery with a tubular design, there is more room for distilled water. Thus, they last longer and maintenance is easy too. This brings us to the next factor – design.

Design

: Inverter batteries can be broadly classified into two categories based on design – tubular batteries and flat plate batteries.

(I)

Flat plate batteries are compact and best suited for homes with a lack of space. However, as they are compact, they can hold only a limited amount of distilled water. They may have to be replaced frequently and require high maintenance. If you face short power cuts frequently, flat plate inverter batteries are a better choice.

(II)

Tubular batteries can hold a higher amount of distilled water. Inverter batteries with this design take up more space. Also, after a long power cut, tubular batteries require more time to recharge. Tubular batteries are recommended for homes that face power cuts for long hours. 
Note: Apart from these two types, a new kind of battery has become common today – the solar inverter battery. How is it different from the two types discussed above?
Solar batteries contain three electrodes. The base consists of a Lithium plate, upon which there are two layers of electrodes. Solar batteries are not exclusively meant for solar inverters. They can be used with any kind of inverter. While the regular batteries get their power from a source of electricity, solar batteries get their power from the sun. As awareness about renewable energy resources is spreading, many people are considering this type of battery as well, for their inverters. Solar batteries provide benefits which are discussed in the sections below. 
Type of cell

: Batteries can have two types of cells – wet cell battery and sealed lead-acid cells. Sealed lead-acid batteries (SLAs) are expensive and do not require a high level of maintenance. Wet batteries on the other hand, although not very expensive, require maintenance. Do keep in mind that SLAs may be costly, but they are worth the price. 

Weight

: It is recommended to buy heavier batteries. This is because heavier batteries are more durable. The electrolyte plates are of better quality.

Power requirement

: You need to check which appliances you want to run when the power supply is lost. Note the power consumed by each of these appliances and calculate their sum. You can calculate the capacity of the battery requirement using this formula:

Battery capacity = Power requirement (in watts) * Back up hours ( in hrs) / Battery Voltage (in volts)

Appliances that can be used:

Lastly, the whole purpose of the inverter will be defeated if you use too many appliances when the power supply is cut. The inverter and the battery will not be able to handle the load and can provide power backup only for a few hours. Therefore, use only those appliances that are necessary. Do not overload the battery. It is a good practice to disconnect powerful appliances (such as a refrigerator) when there is a power cut. Also, try to connect only energy-efficient devices or those that consume less-moderate power. 
Batteries are an inseparable part of the inverter. Thus, it is important to purchase one that is made of high-quality components. Brands such as luminous inverter have been in the market for a long period and are reliable. In the next section, we will be discussing brands that have the best inverter battery and their features.
Best Inverter Battery Reviews
Here is a compilation of the best inverter battery in the market today. 
This model of inverter battery is from one of the most renowned manufacturers in India – Luminous. It has a tubular design and is meant for long power cuts. This product is a favorite among the masses due to its salient features. Let us take a look at these features.
These batteries have a unique alloy composition which is patented. This ensures that the lead part of the battery does not get corroded. Thus, resistance to corrosion is a feature.

The structure of the batteries promises consistent high-quality performance. A uniform grain structure that is void-free helps in better performance.

They take lesser time to charge. However, there is no compromise concerning the number of hours of back up. The batteries charge fast and last longer.

As a result of fast charging, energy efficiency is also a prominent feature of Luminous batteries.

These batteries are strong and durable due to their unique design. They are built to withstand long power cuts.

As it is resistant to corrosion and oxidation, the battery has a long life.

Highly puncture-resistant.

Has a flexible gauntlet for the correct fitment.

This low maintenance battery from Amaron is preferred by a large number of people mainly due to its compatibility. Let us now look at the features that make it the best inverter battery.
These batteries have a high heat tolerance threshold. Thus, it is suitable for regions with a tropical climate.

Charging the battery is quite easy and it gets charged quickly.

This battery contains a low lead reserve. As it is not prone to lose water quickly, it is low on maintenance.

This battery is highly compatible with the inverters of all popular brands in the country.

For the grids, the battery uses high heat-resistant calcium/ultra modified Hybrid alloy. This again contributes to easy maintenance (one can even say zero-maintenance!)

Comes with a 48-month warranty period

As it is factory charged, the battery has the highest reserve capacity

For the number of features this battery provides, it is perfectly priced. Vale for money.

EXIDE has one of the best batteries for an inverter. Exide is known as one of the top manufacturers of inverter batteries. Apart from the advanced Hybrid technology, these batteries have other interesting features as well.
Let us see what these Exide batteries for inverter have to offer. What are the features that make them the best batteries for inverters? 
The battery comes with a floating guide to indicate the electrolyte level. Therefore, it is easy to maintain. The indicator is helpful for the user to know when the battery's electrolytes need to be refilled or the battery upgraded.

Exide offers a 36-month warranty for this product.

The Advanced Hybrid Technology combined with the Thick Plate construction makes it capable of withstanding high temperatures. 

To minimize water loss, there is a special Hybrid Alloy System in place. 

Can be easily transferred within your home

Many batteries suffer from the issue of premature failure. To prevent this, Exide has implemented dual plate separation

The handles are molded for easy handling. 

The electrolyte is safe due to the top vented lids. Additional protection is provided by anti-splash guards

The battery is supplied in the factory-charged condition

These batteries exhibit fume and leak resistance properties. The Float is fitted with a spark arrestor to protect against fumes/acid

Has a clean surface with no surface leakage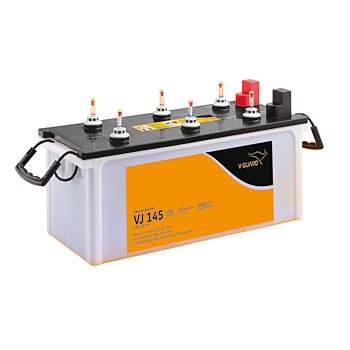 V-Guard is yet another giant in this field. From their stabilizers to inverter batteries, all their products are known for their quality. Let us see some features of this battery from V-Guard.
Highly compatible. They work well with inverters of all types from leading companies in India

The battery is reliable for deep cyclic applications

It is built mainly for homes that face higher power shortage

Depending on the load on the inverter, the battery can provide backup for anywhere between three hours thirty minutes to fifty-five hours

The battery weighs about 30kg and its functioning is highly appreciated by several users

Okaya has established itself as a pioneer in the battery manufacturing industry. It is known for its 100% tubular batteries. However, Okaya also manufactures batteries for various applications. This inverter battery from Okaya has a tubular design. It has all the necessary features of a good inverter battery. Let us now check out the features.
This is an eco-friendly battery. All batteries from Okaya are manufactured in an eco-friendly manner. Wastages are minimized and they do their part in environmental conservation.

The plates in this battery have double the thickness compared to other batteries.

Only the best quality materials are used to make the battery.

Low antimony alloy is used for extra safety.

Contains separators for puncture resistance 

Tubular and flat plate batteries have been in the market for a long time. However, the aim is for sustainable development. As the focus shifted towards efficient usage of renewable energy resources, solar batteries made an entry into the market. These batteries have some advantages over the regular tubular inverter batteries. Let us check out the features of this product from Exide – a company that manufactures some of the best inverter batteries. 
Can be paired up with regular inverters too. This will be useful if you want to upgrade to a solar inverter in the future. You will already have the required battery

Promises consistent performance even when placed in severe temperature or atmospheric conditions

In a regular battery, issues such as corrosion of the spine tube or positive plate are the main reasons for battery failure. This solar battery has an extra thick spine tube (made with HADI machine) for added protection

Very long life

Highly reliable

Normal inverter batteries have a discharge rate of C20. Solar batteries have a better discharge rate (C10) so you get extra backup

Due to very low self-discharge, you can leave it idle for a long time without worrying whether the battery will go empty. 

You can recharge the battery either from solar energy or power supply. If an electric current is used, very low current is sufficient for recharging

The life expectancy of solar batteries is much better than that of regular inverter batteries

Conclusion
We have seen batteries from various leading brands in India. Apart from budget and features, certain other things need to be considered. For example, if you are facing space constraints, you can go for flat plate batteries. Otherwise, tubular batteries would be a good choice. These days, solar batteries are built with hybrid technology so that they can be used with both regular inverters and solar inverters. If you are upgrading the battery for your regular inverter but have plans to shift to a solar inverter int he future, you can go for a solar battery. These batteries provide several advantages over the regular types. 
Irrespective of the type, brand of the battery you buy, make sure that it has corrosion-resistant property. Electrolytes are like fuel for the battery and they need to be handled carefully. Thus, the battery has to have a safe design for the tubes so that it doesn't leak. An unsafe design may lead to harmful events. 
If you want the inverter battery to last, maintenance is key. Even the best inverter battery can die too soon if not maintained well. Here are a few tips that may help:
The batteries tend to heat up when they are recharging or being used. Thus, it is important to store the battery in a cool and airy atmosphere. 

To avoid safety hazards, store the batteries away from inflammable materials/sources.

Regularly check the water level in the battery (one in a month/2 months). Refill with distilled water only. Any other kind of water will have impurities that will affect the battery. Also, do not allow the water level to drop to the minimum limit.

The battery surface should be free from dust. Keep it clean.

Use it regularly. Even in case of no power cut, discharge the batteries once in a while to enable smooth functioning.

Connect only the necessary devices for power back up. Do not load more devices to the inverter than it can handle. If possible, use energy-saving devices during a power outage.
FAQs
Which is the best inverter battery in India?
Luminous is a good choice of inverter battery. Low-cost maintenance coupled with excellent backup is the driving factor behind this popular brand. If you research and compare various brands of inverter batteries online, you will know the salient features provided by each brand. Depending on your requirement, you can choose a brand
Which brand is best for inverter battery?
Indi has certain brands that are known for high-quality inverter batteries. Some of the top-grade brands include Luminous, Exide, and Amaron. These brands have several models of batteries to suit the varied requirements of customers. The battery may differ in design, price, features, safety factor, etc… Thus, compare the products of these top brands to arrive at a decision.
Which inverter battery is best for home use?
For domestic power backup, customers generally look for the following features – energy efficiency/quick recharge, ease of moving the battery, protection against corrosion, oxidation, puncture, and acid, good backup. Inverter batteries from brands like Luminous and Exide have attractive features that are good for home use. 
Which brand battery is the best?
Luminous has stood at the top as the #1 inverter battery brand in India. Due to the sheer variety of products and their salient features, Luminous has gained the trust of the masses over the years. Other equally competitive brands are Amaron, Exide, and V-Guard.
What is the expected lifespan of the inverter battery?
A battery's lifestyle depends on its design. A tubular battery lasts for about 3-5 years while a flat plate battery can last for 2-3 years. With solar batteries, the lifespan is almost double of the regular types – they are expected to last for about 8-10 years.
Can inverter batteries die earlier than expected?
Yes, there is a possibility of a battery dying before its expiry date. Reasons could be many – excess usage, deep discharging, overcharging, bad quality of the battery, etc…Regular maintenance is necessary for an inverter battery to work properly.